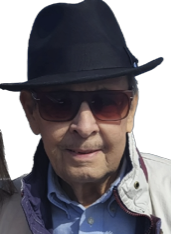 Garland Lee Fitzpatrick, 83, of Hillsboro, Ohio died Sunday, June 11, 2023, at 5:56 a.m. at the Adena Regional Medical Center in Chillicothe where he had been a patient since May 28.
Garland was born May 2, 1940, in Rarden Township in Scioto County, Ohio to Elmer Jay and Mary Mildred Wilson Fitzpatrick, both of whom preceded him in death.  He was a graduate of Rarden High School and had formerly lived in New Holland before moving to Hillsboro 40 years ago from Fayette County.
Before his retirement, he was a heavy equipment operator for the John R. Jurgensen Company.
He was a member of Washington Lodge #129 of the Benevolent and Protective Order of the Elks and Fayette Aerie #423 of the Fraternal Order of the Eagles.
Garland enjoyed cooking, gardening and bargain shopping.
In addition to his parents, he was preceded in death by his wife of 33 years, Elaine Duncan Fitzpatrick, in 2016; a son, Garland Lee Fitzpatrick, Jr. in 2017, and a brother, Roger Fitzpatrick.
He is survived by three children, Gale A. Sholler of Lockbourne, OH, Ronda Balahtsis and her husband, Steve, and Andy Fitzpatrick and his wife, Stacey, all of New Holland; 12 grandchildren; numerous great grandchildren; three brothers, Ronnie, Dale and Elmer "Buddy" Fitzpatrick and a sister, Melody "Sis" Hieneman.
In keeping with his wishes, cremation took place.
A graveside service will be held Saturday, June 17, 2023, at 10:30 a.m. at the Fairview Cemetery in Jeffersonville, Ohio.  Burial will be under the direction of the Kirkpatrick Funeral Home in New Holland.
kirkpatrickfuneralhome.com