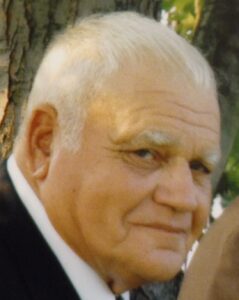 William Edward "Bill" Speakman, 87, of New Holland, Ohio died Friday, May 12, 2023, at 4:42 a.m. at Signature Health CARE of Fayette County where he had been a patient since April 4.
Bill was born March 28, 1936, at Clarksburg in Ross County, Ohio to Pearl and Pauline Bernice Johnson Speakman.  He was a 1954 graduate of New Holland High School where he was senior class vice-president and was a lifelong resident of the New Holland Community.
He was a veteran of the United State Army.
Before his retirement, he was a longtime farmer.
He was preceded in death by his wife, the former (Anita) Jane Marvin, on April 29, 1972; his parents and a brother and sister-in-law, Richard and Judy Speakman.
Bill is survived by a son and daughter-in-law, William L. "Billy" and Rachel Speakman of New Holland; two grandchildren, Jesse and Caroline Speakman; two brothers and sisters-in-law, Kenneth "Kenny" and Bev Speakman of Circleville and Gary and Tonya Speakman of Washington Court House; a sister, Joyce Long of Washington Court House and several nieces and nephews.
In keeping with his wishes, cremation will take place.
A graveside service will be held  Saturday, June 10, 2023 at 10:30 a.m. in the New Holland Cemetery under the direction of the Kirkpatrick Funeral Home in New Holland.
www.kirkpatrickfuneralhome.com