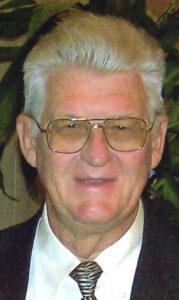 Richard Olan Bentley, 83, of Washington Court House, Ohio died Saturday, May 13, 2023, at 11:34 p.m. at St. Catherine's Manor of Washington Court House where he had been residing since January.
Olan was born March 22, 1940, in Fayette County, Ohio to Thurman Parker and Myrtle Smith Bentley.  He was a 1958 graduate of Jeffersonville High School where he served as senior class president.  He studied accounting at Akron University.
He was employed by the Vaughn Machine Company in Cuyahoga Falls, Ohio from 1959-1962.  He then worked at Armco Metal Buildings in Washington Court House for 31 years from 1962, until his retirement in 1993.  He was a farmer from 1976, until 2019.
Olan was a member of the Sugar Creek Baptist Church where he served on the board of deacons for 36 years.  He was a member of the Corn Items Club; Missouri Valley Wrench Club and the Cast Iron Seat Association of which he served as vice president for five years and president for five years.  He was also an inductee into the Jeffersonville High School Alumni Hall of Fame.
He enjoyed traveling, collecting antiques and farm primitives; was one of the co-founders of Armco Park in the early 1970's and was commissioner of Fayette County Pony League Football in 1975, and 1976.
Olan was preceded in death by his parents and a sister, Sharon A. Bentley Lebow.
He is survived by his wife, the former Janie Marie Jordan whom he married August 27, 1960; two sons and daughters-in-law, Gregory S. and Jodi Bentley and Mark D. and Karen Bentley, of Washington Court House; a grandson, Brock A. (Jordan Sutphin) Bentley of Punta Gorda, FL; five step grandchildren, Ridley (Derickya Massie) Helsel, Weston Helsel, Justin Wines, Clay Wines, all of Washington Court House and Andrea (Andy)  Sloan of Florida; a great grandchild, Rylynn A. Bentley; three step great grandchildren, Lennox and Harlow Helsel and Zoey Sloan; two brothers-in-law, Robert J. Lebow of Statesville, NC and Joe V. (Susan) Jordan of New Holland; two sisters-in-law, Janice L. (Tom) Vance of Point Pleasant, WV and Jacqueline K. Jordan and her friend, John Reeser of Valrico, FL and many nieces, nephews, cousins and friends.
The funeral will be Wednesday, May 17, 2023, at 12 Noon at the Sugar Creek Baptist Church, 3263 Old State Route 35-NW, Washington Court House with Mike Henry, pastor at the church, officiating. Burial will follow in the Fairview Cemetery in Jeffersonville.
Friends may call at the church Wednesday from 10 a.m. until time of the service.
A time of food and fellowship for family and friends will be held at the Sugar Creek Baptist Church Fellowship Hall following the graveside service.
Memorial contributions may be made to the Sugar Creek Baptist Church, P.O. Box 753, Washington Court House, Ohio 43160.
Arrangements are under the direction of the Kirkpatrick Funeral Home in Washington Court House.
www.kirkpatrickfuneralhome.com