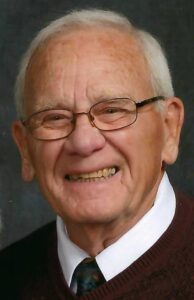 William Cecil Martin, 88, of Washington Court House, Ohio died Saturday, May 6, 2023, at 3:31 p.m. at his residence.
Bill was born in Hyatts, Ohio on March 14, 1935, a beautiful day.  He graduated from Delaware Willis High School, entered the Air Force and grew to love living in Texas.  He married Marlene VanDer Voort in 1957, earned a Bachelor's Degree from Wilmington College and a Master's Degree from Xavier University.  He was a teacher, first at Oscar T. Hawke Middle School in New Carlisle and then in Washington Court House where he taught from 1965 to 1995.  There are so many things that Bill will be remembered for:  coaching, teaching, selling real estate, motivational speaking, playing golf, walking, often on his hands, biking, camping, fishing, reading, reciting poetry and being a loving husband, dad, grandpa, great grandpa, brother, uncle, friend and educator.
Bill was a member of Grace United Methodist Church; the Washington Country Club and The Greens Golf Course where he was a Hall of Fame member.
Bill was preceded in death by his parents, Charles Tillman (Tink) and Virginia McMannis Martin; his mother-in-law and father-in-law, Paul and Evelyn VanDer Voort; brother, Dexter Martin; brothers-in-law, Jerry George and Jerry Heston and sister-in-law, Joycelyn Martin.
Bill is survived by his wife, the former Marlene VanDer Voort whom he married July 15, 1957; children, Kimberlee (Mark) Bonnell, Scott (Janet) Martin, Jennifer (Jerry) Mount; grandchildren, Kellee Bonnell, Bryan (Jasmine) Bonnell, Lynne (Greg) Vanderwoude, Megan (Joe) Castiglia, Martin (Erin) Fisher, Matthew (Abby) Fisher and Kyler Mount; great grandchildren, Noah, Rylee and Zoey Bonnell,  Kylee and Will Fisher, Camren, Madi and Bane Fisher, Bennett Vanderwoude and Lincoln Castiglia;  sister, Sue Heston; sister-in-law, Elaine (Wayne) Ellis, and a host of nieces and nephews.
Mr. Martin was an inspiration and will be missed by many whose lives he touched.
The family would like for everyone to remember Bill by telling anyone who will listen to Hoe to the End of the Row and to know that It's a Beautiful Day and Something Great Will Happen.
Memorial contributions may be made to Ohio's Hospice of Fayette County, 222 North Oakland Avenue, Washington Court House, Ohio 43160.
The funeral will be Saturday, May 13, 2023, at 1 p.m. at the Grace United Methodist Church in Washington Court House with family friend John Burr officiating. Burial will follow in the Washington Cemetery
Friends may call at the church Saturday from 10:30 a.m. until time of the service.
Arrangements are under the direction of the Kirkpatrick Funeral Home in Washington Court House.
www.kirkpatrickfuneralhome.com