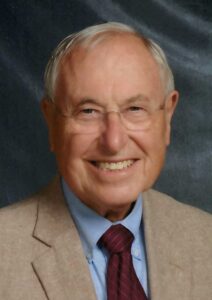 Donald Joseph Moore, 89, of Washington Court House, Ohio died peacefully at his home on Thursday, June 8, 2023.
Mr. Moore was born May 25, 1934, the son of Warren M. and Dona Clement Moore on the eighth-generation family farm of Walnut Hill in Wayne Township in Clinton County.
He was a 1952 graduate of Wayne Township School and matriculated from Miami University with bachelor's and master's degrees, creating a thesis of study of "Clinton County, Ohio and the Civil War."
Donald retired from the Washington City School system after 42 years as a teacher, counselor, and administrator.
He served as a Southern State Community College trustee during the creation of the Brown County campus and had been a trustee for the Carnegie Public Library in Washington Court House.  He also had served on the Washington Court House City Board of Appeals.
During 39 years of his more than half century as a trustee of the Fayette County Historical Society, he served as its secretary.  He was a member of St. Colman of Cloyne Catholic Church for 60 years, participating in its restoration and the building of the parish hall as a member of the parish council.
Donald was preceded in death by his parents and a brother, Warren Samuel "Sam" Moore.
He is survived by his wife, the former Frances C. Hutchinson, whom he married on July 10,1968; a daughter, Diana (Aaron) Baines of Carlsbad, CA and their three children, Henry, Owen and Grace; his son, Alexander D. Moore of New York City and a special nephew, Steven S. Moore of Highland, OH.  Also surviving is his sister, Anne Janda of San Diego; sister-in-law, Mary Ann Moore of Highland; brother-in-law, David Hutchinson of Anderson, IN along with numerous nieces, nephews and cousins.
The funeral mass will be celebrated Friday, June 16, 2023, at 10:30 a.m. at the St. Colman of Cloyne Catholic Church by the Rev. Father Jan C. Sullivan.  Burial will follow in the St. Colman Cemetery.
Friends may call at the Kirkpatrick Funeral Home in Washington Court House Thursday from 4-8 p.m.
Memorial contributions may be made to the St. Colman of Cloyne Catholic Church, 219 South North Street or the Fayette County Historical Society, 517 Columbus Avenue, Washington Court House, Ohio 43160.
www.kirkpatrickfuneralhome.com