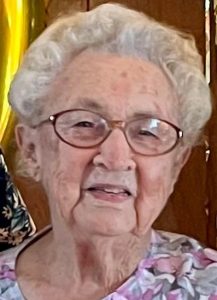 Isabelle Stratton, 97, of Washington Court House, Ohio died Saturday, February 19, 2022, at 7 a.m. at St. Catherine's Manor of Washington Court House where she had been a patient since February 8.
Mrs. Stratton was born December 19, 1924, in Springfield, Ohio to Harry and Florence Todhunter Hyser.  She lived most of her life in this community where she had been a manager at the Montgomery Ward store.
She was a member of the First Presbyterian Church; was a voracious reader and did good deeds for many people.
Mrs. Stratton was preceded in death by her husband, Earl D. Stratton on March 7, 1979, a daughter, Carole Boulmetis and a grandson, Brian Stratton.
She is survived by a son and daughter-in-law, Earl D. and Deborah Stratton of Lakewood Rach, FL; a son-in-law, Sam Boulmetis, and his wife, Anita, of Charlotte, NC; three grandchildren, Lauri McLeland, Stephen Boulmetis and his wife, Kimberly, and Michelle Winkelman and her husband, Michael; five great grandchildren, Ben and Jacob McLeland, Connor and Carter Winkelman and Ty Wellemeyer and many special local friends.
The funeral will be Friday, March 4, 2022, at 1 p.m. at the Kirkpatrick Funeral Home in Washington Court House with the Rev. Steve Brand, pastor at the First Presbyterian Church, officiating. Burial will follow in the Washington Cemetery.
Friends may call at the funeral home Friday, March 4, 2022, from 11 a.m. until time of the service.
Memorial contributions may be made to the Fayette Regional Humane Society, 153 South Main Street, Suite 3, or the Fayette County Commission on Aging, 1179 South Elm Street, Washington Court House, Ohio  43160.
www.kirkpatrickfuneralhome.com