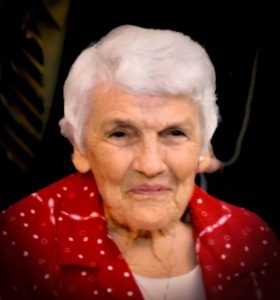 Francis McDonald Allen, 95, of Houma, Louisiana, passed away peacefully at her home on Friday, February 18, 2022, while surrounded by her family.
"Frannie" was born December 26, 1926, in Washington Court House, Ohio to Aloysius Bernard "Bush" and Ruth Hagler McDonald.  She was a 1944 graduate of Washington High School where she served as homecoming queen in 1943.  She attended Mount Saint Joseph College in Cincinnati before moving to Louisiana in 1950, with her beloved husband, Robert B. Allen, who preceded her in death on February 18, 1970.
She was a parishioner of St. Francis de Sales Catholic Church in Houma, Louisiana.  Her hobbies included lady's day golf at Ellendale, bridge club, garden club and bird watching.  She was an accomplished bird watcher and pursued that passion on several international birding expeditions.  But her greatest enjoyment was her family and watching her grandchildren, Jacob and Chelsea, participate in their many sporting events growing up.  "Granny Fran" was a loyal fan at Vandebilt Catholic High School.
She always thoroughly enjoyed her return visits to Washington Court House and the annual family reunions with her extended and scattered family.  "Aunt Frannie" was adored as one of the five 'originals' of the AB McDonald clan.
She was preceded in death, 52 years to the day, by her husband, Robert B. Allen; her parents, Aloysius and Ruth McDonald; a brother, Howard McDonald; a sister, Claire Weade; nephew Michael and nieces Ginger, Elaine and Karen.
She is survived by three children, Lynn Allen (Johnny) of Marietta, GA, Robert B. Allen, Jr. (Sandy) of Richardson, TX and Timothy J. Allen (Vickie) of Houma, LA; grandson, Jacob R. Allen (Emilie); granddaughters, Chelsea Lynn M. Allen, Ashley Bennett & Sherrel Caprio and eight great grandchildren including Clint Matthew Allen; two sisters, Mary Meadows (Jerry) of Paoli, IN and Ann Rask (Richard) of Breckenridge, CO, and numerous nieces, nephews, great nieces and nephews whom she adored immensely.
The funeral mass will be celebrated at Saturday, February 26, 2022, at 11 a.m. at the St. Coleman of Cloyne Catholic Church in Washington Court House Ohio, by the Rev. Father Cyrus Haddad, pastor at the church.  Burial will follow in the Washington Cemetery, where she will be laid to rest next to her beloved husband, Bob.
Friends may call at the church one hour prior to the Mass on Saturday.
In lieu of flowers, memorial contributions may be made in her honor to Vandebilt Catholic High School; St. Colman of Cloyne Catholic Church; or the Terrebonne Bird Club.
Arrangements are under the direction of the Kirkpatrick Funeral Home in Washington Court House.
www.kirkpatrickfuneralhome.com