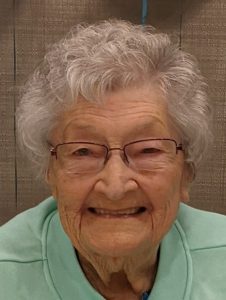 Wilma Margaret Rulon, 98, of Washington Court House, Ohio died Wednesday, December 8, 2021, at 7 p.m. at Adena Fayette Medical Center where she had been a patient since December 3.
Mrs. Rulon was born August 12,1923, in Clinton County, Ohio to Floyd and Hazel Swaney Jones. She was a 1942 graduate of New Vienna High School and moved to
Washington Court House in 1960, from Wilmington.
During World War II, she worked at the Wright-Patterson Air Force Base as an airplane inspector and then was a clerical worker in the dental clinic.  She had worked at the New Vienna Canning Factory, at BATJAK, K-Mart and retired as a clerk at the Fayette County Title Department.
She was a charter member of the Wilmington Church of Christ (Christian).  After moving to Washington Court House, she became a dedicated member of the First Christian Church where she was a Sunday school teacher in the Junior Department and director of the
Vacation Bible School.  She was a member of the Loyal Daughters Sunday school class, the Women's Fellowship, the Martha Guild and she spearheaded numerous church committees.  She recently had been attending Crossroads Christian Church.
Mrs. Rulon enjoyed traveling and loved sitting in her garage and visiting with the neighbors as they passed by.  Her greatest love was her grandchildren and great grandchildren.
On December 22, 1946, she married William M. Rulon.  He preceded her in death on July 15, 1997.  She was also preceded by a brother, James Lee Jones in 1986, and a son-in-law, William S. Halliday in 2003.
She is survived by three daughters, Linda Halliday, Marsha Rulon and Gayle Robinson and her husband, Jay, all of Washington Court House; five grandchildren, Bill Halliday, II and his wife, Erica, of Washington Court House, Cara Helmes and her husband, Steve, of West Chester, Ohio, Kate Halliday and Kevin Woods, of Washington Court House, Amy Jo Morris and her husband, Chad, of Liberty Township, Ohio and Scott Robinson and his wife, Margo, of Washington Court House; seven great grandchildren, Katie and Ryan Helmes, Sadie and Macie Halliday, Charlotte and Liam Robinson and Emily Morris; several nieces and nephews and special friends and her cat, Cotie.
A graveside service will be held Wednesday, December 15, 2021, at 1 p.m. at the Washington Cemetery with Steve D. Henderson, former minister at First Christian Church, officiating.  Burial will be under the direction of the Kirkpatrick Funeral Home in Washington Court House.
There will be no calling hours.
Memorial contributions may be made to the Fayette Regional Humane Society, 153 South Main Street, Suite 3, Washington Court House, Ohio 43160.
www.kirkpatrickfuneralhome.com