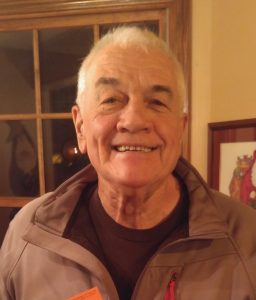 Marion Irvin Frantz, 82, of New Holland, Ohio passed away on Tuesday, December 7, 2021, at 2:24pm.
Marion was born December 9, 1938, in Dublin, Ohio to Samuel P. and Eulalia J. (Billingsley) Frantz. He was a 1956 graduate of Dublin High School. He and his wife Pam (Jenkins) and two children (Todd and Brad) moved to New Holland in 1969, where Marion owned and operated a successful farming operation. Following the move, he and Pam had two more children, Scott and Shannon.
Marion was a conservationist through and through and one of his most-loved activities was planting trees. He was also a loving husband, father, uncle, and grandfather and one of the kindest people on the planet.  Perhaps one of his most endearing qualities was his trade-mark whistle. You could always locate him on the farm if you just listened for one of the made-up tunes coming from his lips.
Marion was preceded in death by his parents, Samuel P. and Eulalia J. Frantz and by his son, Scott.
He is survived by his wife, the former Pamela Jenkins whom he married January 26, 1963; his sister, Bernice C. Stephenson; his son, Todd Frantz; his son, Brad Frantz; and daughter Shannon Jacobs; his sons and daughters in-law, Brian Sammons, Kelli (Camp) Frantz, James Jacobs, and Debbi Frantz; his grandchildren, Hayden Frantz, Tyler Sammons, Holli Frantz, Samuel Frantz, Case Jacobs and Huck Jacobs; his two great-grandchildren, Jayden Sammons and Bella Newton; and other members of the extended family and many loving friends.
Marion's family extends special thanks to the caregivers from Greenfield Skilled Nursing and Rehab and Heartland Hospice.
A celebration of life, open to the public, will be held Saturday, June 25, 2022, at 2:00pm at Marion's home in New Holland.
The family asks that you consider planting a tree in Marion's honor or donate to Heartland Hospice or the hospice of your choice.
Arrangements are under the direction of the Kirkpatrick Funeral Home in Washington Court House.
www.kirkpatrickfuneralhome.com