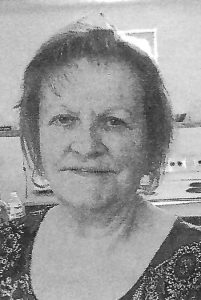 Ursula Johanna Williams, 80, of Washington Court House, Ohio died Tuesday, April 26, 2022, at 8:35 a.m. at St. Catherine's Manor of Washington Court House where she had been a patient since April 12.
Mrs. Williams was born April 11, 1942, in Nuremberg, West Germany to Wilhelm Johann Wolfgang and Kunigunde Anna Moller Seiffarth.  She moved to Fayette County, Ohio in 1963, and to Washington Court House in 1973.  She became a United States Citizen on June 9, 1992.
She had attended two years of technical school in Nuremberg, majoring in retail sales and marketing.   She formerly was a bookkeeper at the G. C. Murphy Store, Murphy Mart and Ames Department Store.  She worked at Airborne, retiring 13 years after the closing of the Ames store.  She also taught German classes for local community education programs.
Reared as a Lutheran, she was a member of All Saints Church.  She enjoyed, animals, dancing, and meeting new people.
She was preceded in death by her parents; her husband, Dewey Edward Williams on June 25, 2007, and a son, Dewey E. "Eddie" Williams, II on April 6, 2022.
Mrs. Williams is survived by a son, Danny Joe Williams of Washington Court House; a daughter-in-law, Sandra Williams of Good Hope and three grandchildren, Jesse and Jake Williams of Dayton and Lailah Gay of Washington Court House.
The funeral will be Thursday, April 28, 2022, at 1 p.m. at the Kirkpatrick Funeral Home in Washington Court House with the Rev. DeVon Davis, chaplain for ProMedica Hospice, officiating.  Cremation will follow the service with burial of the cremains at a later date in Washington Cemetery
Friends may call at the funeral home Thursday from noon until the time of the service.
Memorial contributions may be made to the Fayette Regional Humane Society, 153 South Main Street, Suite 3, Washington Court House, Ohio 43160 or ProMedica Hospice, 116 Morris Road, Unit B, Circleville, Ohio 43113.
www.kirkpatrickfuneralhome.com