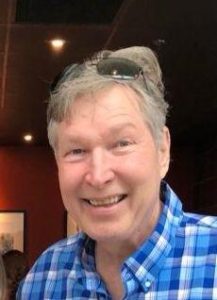 Jeb Andrew Blevins, 63, of Washington Court House, Ohio died Saturday, April 23, 2022, at 5:45 p.m. at the Riverside Methodist Hospital in Columbus where he had been a patient 2½ weeks.
Jeb was born May 20,1958, in Williamson, WV to Elza Ray and Dora Ellen Charles Blevins.  He was a graduate of Bluefield High School in Bluefield WV and attended Bluefield College and Bluefield State College before receiving an associate degree from Morehead State University.  He moved to Washington Court House in 1990, from Hilliard, Ohio.
He was a bookkeeper for Leading Edge Technologies, North Shore Primitivities and Vanessa L. Blevins, CPA and Company.
Jeb was preceded in death by his father.
He is survived by his wife, the former Vanessa Lynn Conley whom he married June 5, 1982; two children, Ali Blevins of Columbus and Zack Blevins and his wife, Ashley, of Harker Heights, TX; his mother, Dora E. Blevins of Fredericksburg, VA; a brother and sister-in-law, Buddy and Laura Lynn Blevins of Bluefield, VA; two sisters and brothers-in-law, Abbie and Shawn Harpel of Fredericksburg, VA and Deena and Steve Moore of Grove City, Ohio and several nieces, nephews and cousins.
Jeb was a giving person and his final gift was that of tissue and cornea donation to save and heal the lives of others.
A visitation will be held Wednesday, April 27, 2022, from 4-7 p.m. at the Kirkpatrick Funeral Home in Washington Court House.
Memorial contributions may be made to the Fayette Regional Humane Society, 153 South Main Street, Suite 3, Washington Court House, Ohio 43160 or a charity of the donor's choice.
www.kirkpatrickfuneralhome.