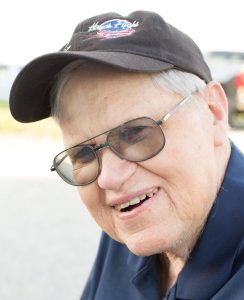 William Barton (Bart) Montgomery, 94, of Washington Court House, passed away Tuesday, April 12, 2022, at 9:55 p.m. at Four Seasons of Washington Nursing and Rehabilitation Center where he had been a patient since March 25.
Bart was born June 20, 1927, in Washington Court House, Ohio to William Wesley and Clara Mae Morris Montgomery.  He graduated from Washington High School in 1945, as senior class president. He continued his education at The Ohio State University, graduating with a degree in agriculture business in 1948.  He then served in the U.S. Army during the Korean Conflict.  Following his discharge from the Army, Bart returned to Fayette County and started his lifelong farming career, first with his father and then with his son and grandsons.
Bart was an active in Farm Bureau and Nationwide Insurance, serving on the board of directors of both organizations.  He was a member the Grace United Methodist Church where he had been a Sunday school teacher and served on numerous committees.  He was also a member of Fayette Lodge F. & A.M. #107 and AGS fraternity.  Bart and his wife, Laurel, had traveled extensively and had visited every state in the union in addition to several countries in Europe and Asia, including Russia and China. He developed many lifelong friends from over the years.
On March 24, 1956, he married his beloved childhood friend, the former Laurel Ford.  They celebrated 59 years of marriage before she preceded him in death on June 9, 2015.  He was also preceded by his parents and two sisters, Alice Montgomery Herrmann and June Montgomery Pero.
Bart is survived by a son, Keith A.  (Hope Tolle) Montgomery of Washington Court House; a daughter, Jan (Richard) Taeuber of Seminole, FL; four grandchildren, Wesley W. (Brandi) Montgomery and Kyle W. (Katie) Montgomery, Jennifer (Andrew) Kennedy, and Michelle (Benjamin) Bechtold; five great grandchildren, Wiley and Josie Belle Montgomery, Ella and Quinn Montgomery and Abigail Kennedy.  He was proudly expecting the birth of three additional great grandchildren this summer. He is also survived by brother, Robert Montgomery and several special nieces and nephews.
A Masonic service, led by the brethren of Fayette Lodge #107, will be conducted Monday, April 18, 2022, at 1 p.m. at the Grace United Methodist Church.  The funeral will immediately follow the Masonic service with the Rev. Matt Brookes, pastor at the church, and Mell Wickensimer, director of visitation at the church, officiating.  Burial will follow in the Washington Cemetery.
Friends may call at the church from 10 a.m. Monday until time of the service
Memorial contributions may be made to the Grace United Methodist Church, 301 East Market Street, Washington Court House, Ohio 43160.
Arrangements are under the direction of the Kirkpatrick Funeral Home in Washington Court House.
www.kirkpatrickfuneralhome.com