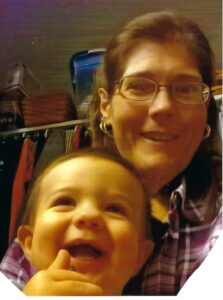 Tamitha Kay "Tami" Peters, 55, of Washington Court House died Saturday, September 2, 2023, at 9 p.m. at her home.
Tami was born April 6, 1968, in Washington Court House, Ohio to Lawrence Ernest "Butch" and Sharon Kay Lewis Peters.  She was a 1986 graduate of Miami Trace High School and was a lifelong resident of this community.
She formerly worked in the cash cave at the Washington Court House K-Mart store. She had been secretary in the office at Greenfield McClain Middle School and a cashier at Family Dollar in Greenfield, but her main job was that of a homemaker.
Tami was preceded in death by her father, Lawrence "Butch" Peters; her mother, Sharon Kay Douglas and ex-husband, Larry Carman, Sr.
She is survived by her husband, Thomas Joseph Peed, Jr., whom she married October 21, 2005.  She is also survived by a daughter, Jessica (Nicole) Peters; grandson, Jaxon Peters; siblings, Deborah Taylor; Amy (George Shelpman) Mason and Jeff Douglas; bonus daughter, Savannah (Nathaniel) Turner and several nieces, great nephews, aunts, uncles and cousins.
The funeral will be Thursday, September 7, 2023, at 1 p.m. at the Kirkpatrick Funeral Home in Washington Court House with Thomas J. Peed, Sr. officiating.  Cremation will follow the service.
Friends may call at the funeral home two hours prior to the service on Thursday.