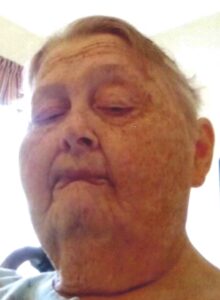 Nancy Fay Landis, 68, of Washington Court House, Ohio died Friday, September 1, 2023, at 4 p.m. at St. Catherine's Manor of Washington Court House where she had been residing since February.
Nancy was born September 3, 1954, in Jamestown, Ohio to Riggs and Maltie Jackson Powers.  She was a graduate of Madison Plains High School and moved to Washington Court House in 1987, from London.
She formerly was a cashier and supervisor at K-Mart and Walmart.
Nancy was a member of the South Side Church of Christ; was a volunteer at My Sister's House and was a faithful Friday night attendee at the Rose Avenue Dream Center.  She was an avid collector of angels and roosters.
She was preceded in death by a grandson, Zac Wallace on February 27,2023; three brothers, Edmond, Chester and Riggs Powers and a sister, Cora Powers.
She is survived by her husband,  Terry Landis; two daughters, Tina Garinger and her fiancée, Thomas Bush, of London, OH and B.J. Wallace and her husband, Gregory, of Circleville; three grandchildren, Amber (Austin) Pollock, Travis Garinger and Nevaeh Garinger; a step-grandson, G. W. (Stephanni) Wallace; three great grandchildren, Chad Pollock, Dexlee Pollock and Parker Wallace and his mother, Kirsten Jones; two brothers and sisters-in-law, James and Cathy Powers of Chillicothe and Bob and Sandy Powers of London; two sisters, Rose Beers of Jackson, OH and Martha Grubb and her husband, Bobby, of Washington Court House and several nieces, nephews and cousins.
The funeral will be Wednesday, September 6, 2023, at 1 p.m. at the Kirkpatrick Funeral Home in Washington Court House with the Rev. Joy Stanforth, associate minister at Heritage Memorial Church of Christ in Christian Union, officiating.  Cremation will follow the service and burial of the cremains will be at a later date in the Fairview Cemetery in Jeffersonville, Ohio.
Friend may call at the funeral home Wednesday from 11 a.m. until time of the service.
www.kirkpatrickfuneralhome.com