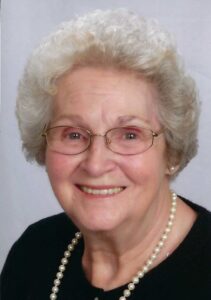 Ramay Jane Chapin Storm Butler, 93, of Washington Court House, Ohio passed away Friday, April 28, 2023, at 10:58 p.m. at her residence.
Ramay was born April 15, 1930, in Cold Spring, KY to Raymond James and Olinda Marie Schweitzer Chapin.  She had formerly lived in Washington Court House before moving to Lewisburg, TN in 1977. She returned to Washington Court House in 2020.
She previously was an office clerk at the Montgomery Ward store in Washington Court House and had been a logistics specialist for Teledyne Technologies in Lewisburg, TN.
Ramay was a member of The Church of Jesus Christ of Latter-day Saints.
She was preceded in death by her first husband, Earl Calvin Storm in 1973; her second husband, Clifford Ralph Butler in 2016; a son, Kevin L. Storm in 2005, and five siblings.
Ramay is survived by three children, Roger C. Storm and his wife, Diana, of Strongsville, OH, Brian L. Storm and his wife, Debra, of Santa Clara, UT and Parma M. Dawson of Washington Court House; four step children, Audrey Butler, Carla Butler and Debra Butler, all of Salt Lake City, UT and Whitney Robison and her husband, Darin, of Rigby, Idaho; 19 grandchildren; 62 great grandchildren; a great great granddaughter; three brothers, Mark Chapin of Arizona, Gary Chapin of Kentucky and Bruce Chapin of Idaho; two sisters, Glenda Orr and Donna Chapin, both of Arizona and numerous nieces and nephews.
A private graveside service will be held at the Washington Cemetery with Branch President Jonathon Glover, of The Church of Jesus Christ of Latter-day Saints, officiating.  Burial will be under the direction of the Kirkpatrick Funeral Home in Washington Court House.
A private family visitation will be observed.
www.kirkpatrickfuneralhome.com