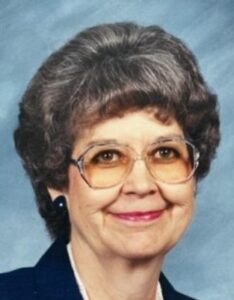 Anita Louise Smith, 85, of Greenfield, Ohio, peacefully went to be with her Lord Jesus Christ on Friday, April 28, 2023.
She was born December 15, 1937, in Decatur, Illinois to Russell Ward and Dimple Mae Crook Metzger.  She moved to Greenfield in 2021, from Grove City, Ohio.
Mrs. Smith loved spending time with her family and dogs, studying the Bible, gardening, taking long walks, and most importantly, sharing the Gospel of Jesus. She was a member of Highland Baptist Church in Grove City, Ohio.
She was a beloved receptionist at the Mount Carmel School of Nursing in Columbus for nearly 20 years when she retired in 2000.
Mrs. Smith was preceded in death by her parents and was the last of six siblings.
She is survived by three children, Warren L. Smith and Clifford P. (Cliff) Smith of both Greenfield and Marilyn S. Williams and her husband, Rod, of Estes Park, Colorado; three grandchildren, Kenny (Sarah) Smith, Katie (Jon) Gilbert and Karyn (Kenny) Clayton; eight great grandchildren and numerous nieces and nephews.
In accordance to her wishes, cremation will take place.
A family gathering will be held at a later date.
Arrangements are under the direction of the Kirkpatrick Funeral Home in Washington Court House.
kirkpatrickfuneralhome.com