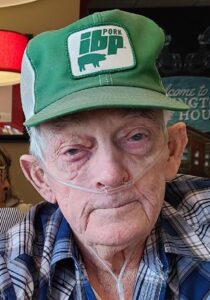 Paul Roger Minshall, 84, of New Holland, Ohio passed away Monday, December 19, 2022, at 2:15 p.m. at his home.  He had been in failing health.
Paul was born December 26, 1937, in Fayette County, Ohio to James Carl and Dorothy Helen Mitchem Minshall.  He was a lifelong resident of the New Holland community where he was a retired farmer.
He was preceded in death by his parents; a brother, James A. "Jake" Minshall on June 14, 2020, and a sister, Sarah J. Shortreed on August 3, 2020.
He is survived by his loving wife, the former Carol Jean Wolfe whom he married October 10, 1959; his children, Rita (Mike) Miller of Madison Mills, OH, Tammie Monroe of Washington Court House, Dan (Tracy) Minshall and Kathy (Joe) Seymour, all of New Holland; eight grandchildren, Andrea (Dereck) Reedy, Brian (Nikki) Miller, Amanda Monroe, Zach (Taylor) Monroe, Trevor Seymour, Makayla Seymour, Danniel Minshall and Jordan Minshall; several great grandchildren; a brother, Carl "Sam" Minshall of New Holland; a sister-in-law, Trudy (David) Seymour of Washington Court House; special niece, Hollie Terhune; special friends, Arnold and Joyce Dawson of Jackson and many other relatives, friends and neighbors.
The funeral will be Thursday, December 22, 2022, at 12 Noon at the Kirkpatrick Funeral Home in New Holland with Larry Stiles, former minister at the New Holland Church of Christ, officiating.  Burial will follow in the New Holland Cemetery.
Friends may call at the funeral home in New Holland Thursday from 10 a.m. until time of the service.
Memorial contributions may be made to the New Holland Church of Christ, P.O. Box 166, New Holland, Ohio 43145.
www.kirkpatrickfuneralhome.com