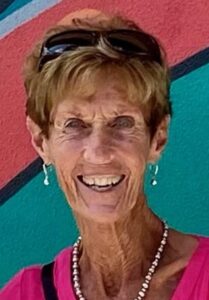 Patsy Ann Bryant, 85, of Washington Court House, Ohio died Monday, November 6, 2023, at 7:10 p.m. at her home.
Patsy was born September 26, 1938, in Fayette County, Ohio to Charles Luther and Northa Lois Fountain Cockerill. She was a 1956 graduate of Washington High School and was a life-long resident of this community.
She was a member of the Sugar Grove United Methodist Church.
Patsy was preceded in death by her parents; two brothers, Charles (Mac) Cockerill and Edwin Cockerill and a sister, Joy Gleadall.
She is survived by her husband, John A. Bryant whom she married August 11, 1957,  three children, John Michael "Mike" Bryant and his wife, Christy, of Washington Court House; Kimberly Wyatt and her husband, Rick, of Centerville, Ohio and Mark Bryant and his wife, Kimberly, of Washington Court House; ten grandchildren, Brittany Bryant, Brady (Sarah) Bryant, Heath (Abbie) Bryant, Bailee (Kendal) Coleman, Eryn (Marshall) Portwood, Kasey (Brad) Bamberger, Tanner (Trey) Uetrecht, Joshua (Morgan) Wyatt, Luke (Hannah) Wyatt and Gracie Wyatt; 11 great grandchildren; two brothers and sisters-in-law, David and Ann Cockerill,  Brant and Elaine Cockerill and a sister, Sandi Rockhold, all of Washington Court House and numerous nieces and nephews.
To honor her wishes, cremation was observed.
A celebration of life, "Open House," will be held Sunday, November 19, 2023, from 1-4 p.m. at the Depot on Main, 215 South Main Street, Washington Court House with food and drinks provided by Rachel's Catering.
A memorial service will be held for the family on Monday, November 20, 2023, at 10 a.m. at the Kirkpatrick Funeral Home in Washington Court House with the Rev. Todd Wallace, pastor at the Sugar Grove United Methodism Church, officiating.  Friends of the family are welcome to attend.  Burial will follow in the Washington Cemetery.
Memorial contributions may be made to Ohio's Hospice of Fayette County, Inc., 222 North Oakland Avenue, Washington Court House, Ohio 43160.
www.kirkpatrickfuneralhome.com