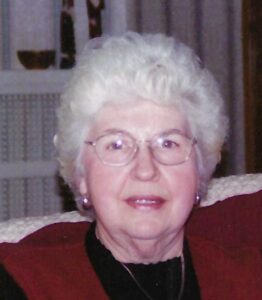 Nona Mae Spears, 91, of Washington Court House, Ohio died Sunday, July 23, 2023.
Mae was born September 21, 1931, in Pikeville, Kentucky to Ballard and Cora Adkins Justice. She lived most of her adult life in Washington Court House, where she was a respected employee of Calmar Corporation for 15+ years.
She was a former member of the Primitive Baptist Church of Waverly, Ohio and Hurricane Creek, Kentucky for many years.
Throughout Mae's life she was known as a person of integrity, kindness, compassion and generosity. She lived life always looking to bless others and help those in need.
Mae was married to the love of her life, Cecil Spears on December 21, 1957. They were a devoted couple of 47 years until Cecil's passing.
She was a loving and caring mother of three, grandmother of six and great grandmother of nine.
Mae was preceded in death by her husband, Cecil on March 15, 2005; her brother, Joe Justice; a sister and brother in-law, Nola and Noah Adkins; a brother in-law, John Blevins; and a sister in-law, Hattie Justice.
She is survived by her three children and their spouses, Sandra and Tom Anderson of Galloway, Ohio; Steve and Susan Spears of Washington Court House; and Richard and Donna Spears of Marysville, Ohio; six grandchildren, Megan (Andrew) Acord, Alissa (Austin Brooks) Anderson, Ryan (Carrie) Spears, Tyler Spears, Taylor Spears and Tiffany (Zachary) George; nine great grandchildren; two brothers and sisters in-law, Bob and Carlene Justice and Howard and Norma Justice; two sisters, Jane Justice and Betty Blevins; all of Pikeville, Kentucky and numerous nieces and nephews.
There will be a visitation and service at the Gathering Place Church, 240 Courthouse Parkway, Washington Court House, Ohio on Monday, July 31, 2023. The visitation will be from 4-6 p.m. with the service beginning at 6 p.m.
There will be a private burial service at the Davidson Memorial Gardens in Allen, Kentucky at a future date.
Arrangements are under the direction of the Kirkpatrick Funeral Home in Washington Court House.
www.kirkpatrickfuneralhome.com