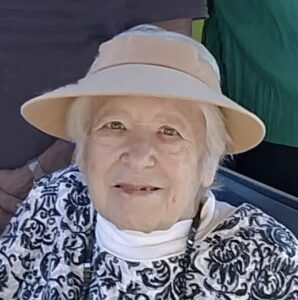 Grace Catherine Potts McFadden, 91, passed away Saturday, July 22, 2023.
She was born April 14, 1932, at Anna in Shelby County, Ohio to Ben Lincoln and Florence Katherine Gibbs Potts.
Before her retirement, she was a teacher at the Fayette Progressive School for 22 years.
Grace was preceded in death by her husband, Robert Everett McFadden; sons, Robert E. McFadden, Jr.; Michael D. McFadden and David E. McFadden and two sisters, Dorothy Helman and her husband, Norris, and Nancy Watkins.
Grace is survived by two daughters, Anita McFadden and Mary Beth Slocum; three grandchildren, Matthew (Jessica) Fennig, Lindsey (Sam Holofchak) Slocum and John Michael Slocum; Don Smith, whom she claimed as her 4th son; four great grandchildren, Evan Fennig and Nicky, Gabe and James Holofchak and a brother-in-law, Emerson (Wanda) Watkins.
The funeral will be Monday, August 7, 2023, at 1 p.m. at the Kirkpatrick Funeral Home in Washington Court House with Jim Blair officiating.  Burial will follow in the Cochran Cemetery in Fayette County.
Friends may call at the funeral home one hour prior to the service on Monday, August 7, 2023.
Memorial contributions may be made to the Jeffersonville United Methodist Church, P.O. Box 71, Jeffersonville, Ohio 43128 or the Carnegie Public Library, 127 South North Street, Washington Court House, Ohio 43160.
Condolences may be sent to www.kirkpatrickfuneralhome.com.
www.kirkpatrickfuneralhome.com