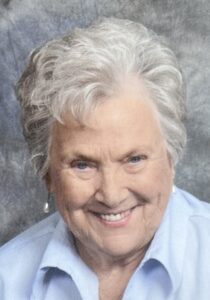 Naoma Ruth (Ruth Ann) Bailey, 87, of Washington Court House, Ohio died Sunday, September 17, 2023, at 11:10 p.m. at Clinton Memorial Hospital where she had been a patient since September 14.
Ruth Ann was born July 14, 1936, in Kentucky to Raymond and Pearl Alexander West.  She was a graduate of Gauley Bridge (West Virginia) High School.  She lived most of her life in Greenfield and Washington Court House.
She was a member of WCH Grace Methodist Church, was an avid reader and enjoyed quilting.
On June 6, 1954, she married Donald W. Bailey.  He preceded her in death on December 23, 2000.  She was also preceded by two brothers, Richard and Floyd West and two sisters, Bonnie Masters and Janie Rose.
She is survived by a son, Donald R. Bailey and his life partner, Misty George, of Mount Sterling, OH; a daughter and son-in-law, Laura and David Miller of Delaware, OH; several grandchildren and great grandchildren; a brother, Dennis West and a sister and brother-in-law, Marietta and Sonny Taylor, all of West Virginia.
The funeral will be held Friday, September 22, 2023, at 1 p.m. at the Kirkpatrick Funeral Home in Washington Court House with Mell Wickensimer, director of visitation at WCH Grace Methodist Church, officiating. Burial will follow in the Washington Cemetery.
Friends may call at the funeral home Friday from 11 a.m. until the time of service.
www.kirkpatrickfuneralhome.com