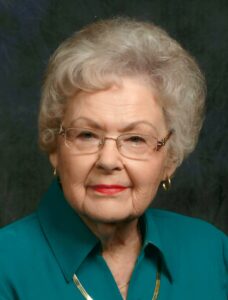 Geraldine "Jerry" West Junk, 96, of Washington Court House, Ohio died Thursday, September 14, 2023, at 10:45 a.m. at Court House Manor where she had been residing since March 24, 2023.
Jerry was born February 4, 1927, in Jeffersonville, Ohio to Chester Lynn and Dora Mildred Ellis West.  She was a graduate of Jeffersonville High School and attended beauty school in Springfield.  She was a lifelong resident of this community.
She owned and operated Jerry's Beauty Shop for many years before her retirement in 1998.
Jerry was a devout Christian lady and a longtime member of WCH Grace Methodist Church and the Aldersgate Sunday School Class.  She had formerly been a volunteer with the Fayette County Memorial Hospital Auxiliary and had also been a member of the Fayette Regional Humane Society.
Mrs. Junk was preceded in death by her parents; a brother, Jack W. West in 1997, and special friends, Marty Wickensimer in 2019, Mark Wickensimer in 2022, and Edna May Walston in 2018.
She is survived by a sister-in-law, Patricia West of Washington Court House; a niece, Linda Sue Davis and her husband, J. Paul Davis, of Goodyear, AZ; a cousin, Barb Coan of Grove City; special friends, Mell Wickensimer, Sharon Miller, Mindi Wickensimer, Deana Ely; Carla Long, Lisa Bohn, Vicki Cardenas and Carol Heinz; her friends in Ohio's Hospice of Fayette County, including caregivers, Naomi Mootispaw and Shelly Robbins and several other cousins and numerous friends.
The funeral will be Monday, September 18, 2023, at 1 p.m. at the Kirkpatrick Funeral Home in Washington Court House with Mell Wickensimer, director of visitation at WCH Grace Methodist Church, officiating.  Burial will follow in the Milledgeville-Plymouth Cemetery.
Friends may call at the funeral home from 12 Noon Monday until the time of the service.
Memorial contributions may be made to WCH Grace Methodist Church, 301 East Market Street or the Fayette Regional Humane Society, 153 South Main Street, Suite 3, Washington Court House, Ohio 43160.
www.kirkpatrickfuneralhome.com