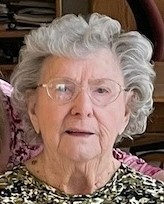 Mary Nell Wilson, 90, of Canal Winchester, Ohio died Saturday, September 9, 2023, at 8:19 a.m. at Tuscany Gardens in Pataskala where she had been residing six weeks.
She was born September 25, 1932, in Reidsville, GA to Elmer Clinton "Tobe" and Lucy May Boyles Cowart.  She was a graduate of Collins High School in Reidsville and a 1952 graduate of the Warren A. Candler Hospital School of Nursing in Savannah, GA.  She moved to Canal Winchester in 1967, from Jeffersonville, Ohio
She was a retired registered nurse.  Following her retirement, she continued to care for those around her and always was a caregiver wherever she was.  Throughout her life, she continued to complete the state required educational courses to keep her nursing license current.
Mary had served as a pianist at her church; had been a Sunday school teacher and always supported the church missionaries and their endeavors.
On September 25, 1952, she married Lindy Dale Wilson.  He preceded her in death on July 11, 2017.  She was also preceded by five brothers, Elmer, Oland, Roy, Arthur and Carl Cowart and a sister, Callie Peeples.
She is survived by two daughters and sons-in-law, Kay and Malcolm Turrill of Pickerington and Lisé and Russell Roth of Ashville, Ohio; four grandchildren, Dustin (Amanda) Wagner, Kelly Turrill, Russell (Stacie) Roth and Mary (Jeremiah) Jacobsen and eight great grandchildren, Amie, Joshua and Natalie Roth, Judah, Abigayle Lindy, Levi and Simon Jacobsen and Donovan Days.
The funeral will be Thursday, September 14, 2023, at 1 p.m. at the Kirkpatrick Funeral Home in Washington Court House with Pastor Matthew Pittman officiating.  Burial will follow in the Washington Cemetery.
Friends may call at the funeral home one hour prior to the service on Thursday.
www.kirkpatrickfuneralhome.com