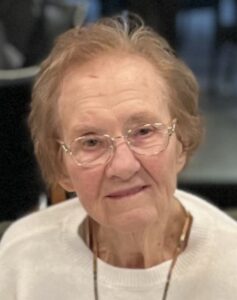 Ethel Louise Jordan, 90, of London, Ohio, formerly of Washington Court House, passed away Monday, March 13, 2023, at 5:11 p.m. at The Ohio State University Hospital East in Columbus where she had been a patient the past week.
Louise was born March 28, 1932, in Kingston, Ohio to Nolan D. and Ethel B. Findlay Bitzer.   She was a 1950 graduate of West High School in Columbus and a 1954 graduate of The Ohio State University with a bachelor's degree in home economics.
She formerly taught home economics at Utica High School and later did extensive substitute teaching at various area schools.  For many years she assisted her husband with his dental practice in Washington Court House.
Louise formerly attended South Side Church of Christ and was currently a member of the Greenfield Church of Christ.  She was also a member of Phi Beta Psi Sorority; the Mother's Circle and The Ohio State University Alumni Club.  She enjoyed baking, quilting and sewing but especially being with her family.
On June 9, 1956, she married John Thomas Franklin Jordan.  He preceded her in death on January 19, 2021.  She was also preceded by two sons-in-law, Michael Douds and Greg Davis; her parents; her father-in-law and mother-in-law, John G. and Pearl Welty Jordan; a sister and brother-in-law, Maryann and Richard Cassidy and a sister-in-law and brother-in-law, LaVonne and Frank Creamer.
She is survived by four daughters, Linda Murden and her husband, Dr. Robert Murden, of Worthington, OH; Joan Jordan of Providence, RI; Jenny Hildebrand and her husband, Drew, and Julie Davis, all of London, Ohio; six grandchildren, Jonathan Douds, Alyson Douds, Adam Phillips, Dr. Eric Phillips and his wife, Dr. Samar Sheriff, Frank Hildebrand and Jordan Hildebrand; two great grandsons, Steven Miller and Noah Phillips; her cousin and best friend, Bruce Findlay and several nieces and nephews.
A memorial service will be held Saturday, March 18, 2023, at 1 p.m. at the Kirkpatrick Funeral Home in Washington Court House with Danny Dodds, minister at the Greenfield Church of Christ, officiating  Burial of the cremains will follow in the Washington Cemetery.
Friends may call at the funeral home Saturday from 11 a.m. until time of the service.
Memorial contributions may be made to the Greenfield Church of Christ, 955 Jefferson Street, Greenfield, Ohio 45123.
www.kirkpatrickfuneralhome.com