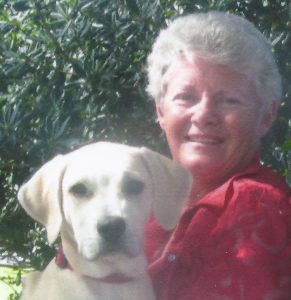 Carol Ann Witherspoon Carey, 75, of Washington Court House, Ohio died Wednesday, May 4, 2022, at 12:38 a.m. at The Ohio State University Wexner Medical Center in Columbus where she had been a patient since April 14.
Carol was born March 10, 1947, in Columbus, Ohio to Richard Ruley and Ruth C. Malone Witherspoon.  She was a 1965 graduate of Washington High School and a 1969 graduate of Miami University with a B.A. in speech and communications.
She worked for nearly ten years at TV-4 in Columbus in various production capacities.  While there, she was awarded a listing in Outstanding Young Business Women in America.  In 1972, she became writer/producer/director of the live entertainment drama titled "I'll See You In Court." for which she won a local Emmy from the National Association of Television Arts and Sciences.
Returning to Fayette County in 1979, she worked as director of advertising for Pennington Bread and in 1982 became curator of the Fayette County Museum.  She wrote numerous newspaper articles and presented different slide and movie presentations throughout the community for which she received an award from the Ohio Association of Historical Societies and Museums for "Outstanding Contributions to Local History."  In 1993, she authored the book, Fayette County Ohio: A Pictorial History, on behalf of the Fayette County Historical Society.  She also authored True Blue: A History of the Washington City School District.
She served two years as executive director of the Chamber of Commerce and owned and operated P R Plus, in which she represented various local businesses and agencies.  She had served as a trustee for Southern State Community College and, for 12 years, was on the board of directors of Fayette County Memorial Hospital.  For many years, she served as a poll worker and judge with the Fayette County Board of Elections.  She was a volunteer with the Fayette County Food Pantry at the First Presbyterian Church and a supporter of pet networking.  She assisted her husband in training sessions and computer interacting with the Lions Club and had attended two international conventions of Lions International.
She was preceded in death by her parents.
Carol is survived by her husband, James N. (Jay) Carey whom she married on March 15, 1991; two step children, Tami Paquette and her husband, David, of Gahanna and Bradley Carey and his wife, Marcy, of Marengo; a brother, Richard J. Witherspoon of Washington Court House, several cousins, including the Rev. Jack B. Witherspoon and her beloved dog, Tipper.
The funeral will be Tuesday, May 10, 2022, at 11:30 a.m. at the Grace United Methodist Church in Washington Court House with Mell Wickensimer, director of visitation at the church, officiating.  Burial will follow in the Washington Cemetery.
Friends may call at the Kirkpatrick Funeral Home in Washington Court House on Monday from 4-8 p.m.
Memorial contributions may be made to the Fayette County Museum, 517 Columbus Avenue, Washington Court House, Ohio 43160 or the Adena Fayette Medical Center Foundation, 9 South Paint Street, Chillicothe, Ohio 45601.
www.kirkpatrickfuneralhome.com