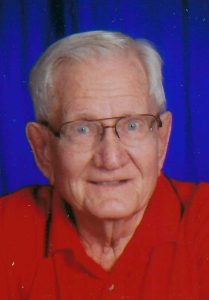 A celebration of life service, with complete firefighter honors, for Clyde Hockenbery, 91, of Washington Court House, Ohio will be held Saturday, May 7, 2022, at 1 p.m. at the Judy Chapel in the Washington Cemetery with Larry Baker, retired chaplain from the Upper Arlington Fire Department, officiating.
Friends may call at the Judy Chapel Saturday from 11 a.m. until time of the service.
Memorial contributions may be made to the Firefighters Charitable Foundation at ffch.org.
Clyde was born November 29, 1930, at West Jefferson in Madison County, Ohio to James Spencer and Nettie Marie Braithwaite Hockenbery.  He was a 1948 graduate of West Jefferson High School and moved to Washington Court House in 1977, from West Jefferson.
He retired as a lieutenant in 1984, from the Upper Arlington Fire Department after 25 years of service.  He was a member of Firefighters International #1521 and the Retired Firefighters Association.
On February 17, 1977, he married the former Vera Jane Lamb.  She preceded him in death on December 28, 2018.  He was the last of eight siblings.
Clyde is survived by children, Denise Butkus and her husband, Al, of Sebastian, FL, Nancy Humphrey, Annette Beam and her husband, Thomas, Robin Jones and her husband, Al, and Linda Roy, all of West Jefferson, Keith Hockenbery and his wife, Kim, of Sebastian, FL, Donald Palmer, Jr., of Washington Court House, Pamela Stapleton and her husband, Jim, of Staunton, and Teresa Streitenberger and her husband, David, of Washington Court House and numerous grandchildren, great grandchildren and great great grandchildren.
Clyde died December 12, 2021, at his home.  In keeping with his wishes, cremation was observed.
Arrangements are under the direction of the Kirkpatrick Funeral Home in Washington Court House.
www.kirkpatrickfuneralhome.com