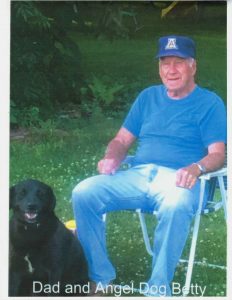 Billy Lee Anderson, 90, of Washington Court House, Ohio, passed away Friday, December 17, 2021, at 4:13 p.m. at his home with his loving family at his side.  He had been in failing health.
Billy was born January 28, 1931, in Fayette County, Ohio to Siah and Ilo Fountain Anderson.  He was a graduate of Wayne High School in Good Hope and was a lifelong resident of this community.
Before his retirement in 2010, he had been a cabinet builder for Palm Harbor Homes for 47 years.
He was a member of Crossroads Christian Church.  He served in the U.S. Marine Corps during the Korean Conflict and was a member of Paul H. Hughey Post #25 of the American Legion.
He enjoyed the outdoors and mowing the fields.  He was well known  for his gardening and his spacious gardens.
On October 22, 1955, he married the former Opal Lee Conaway.  She preceded him in death on February 8, 2016.  He was also preceded by a son, Todd Alan Anderson in 1992; two brothers, Dane and Marlyn Anderson and a sister, Vivian Enochs.
Billy is survived by a son, Kevin Anderson of Washington Court House; a daughter, Kami Olsson and her husband, Mattias, of Washington Court House; seven grandchildren, Erin (Damien) Hart, Adam (Lindsey) Anderson, Brittany (Patrick) Clark, Katie (Elonzo) Coppins, Ethan Ruth, Elijah Ruth and Kassidy Olsson; several great grandchildren; a sister, Janet Dodds of Washington Court House and numerous loving nieces and nephews.
A private graveside service will be held Tuesday, December 21, 2021, at 11 a.m. at the Highlawn Cemetery with Todd Maurer, involvement minister at the Southside Church of Christ, officiating.  Burial will be under the direction of the Kirkpatrick Funeral Home in Washington Court House.
There will be no calling hours.
Memorial contributions may be made to ProMedica Hospice, 116 Morris Road, Unit B, Circleville, Ohio  43113.
www.kirkpatrickfuneralhome.com