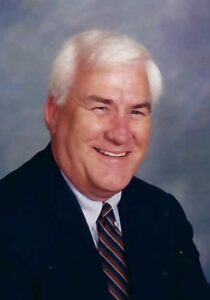 The family of William Burwell "Bill" Creager, 81, of Washington Court House, Ohio is deeply saddened by his death on Thursday, August 24, 2023, at his residence.
He was born March 18, 1942, in Zanesville, Ohio to William Burwell and Jean Cross Creager.
Bill, known as Will-I-Am, Dad, Pawp and Paw Paw was in the grocery business for many years.
He loved traveling, reading, golfing, The Ohio State University Buckeyes and singing in the Unified Men's Choir, but he mostly enjoyed going to events in which his grandchildren were participating.
He was preceded in death by his parents; an infant brother, Charles Thomas Creager; a sister, Janice Harper and a son-in-law, Justin Sparks.
Bill is survived by his wife, the former Shirley J. Weemhoff whom he married March 25, 1988; their children, Kevin (Leanna) Creager of Cincinnati, Todd (Beth) Herman of Dublin, OH and Tami Sparks of Wilmington, OH; four grandchildren, Zane Stevens and his fiancée, Nikki Aiken, Regan Sparks, Amber (Tom) Goecke and Kellie (Mark) Duff; five great grandchildren; a sister, Jean (Mike) Coffey; sisters-in-law, Sandra Darfus, Kathy (Ron) Reiber; brothers-in-law, Richard (Aimee) Weemhoff and Russell Harper; several nieces and nephews and many friends he considered family.
The funeral will be held Saturday, August 26, 2023, at 2 p.m. at the Crossroads Christian Church in Washington Court House where he was a member.  His longtime friend, Danny Dodds and church pastor Adam Lynch, will preside at the service.  A private burial will be held Monday in the Washington Cemetery.
Friends may call at the church Saturday from 12 Noon until time of the service.
Memorial contributions may be made to Ohio's Hospice of Fayette County, 222 North Oakland Avenue, Washington Court House, Ohio  43160.
Arrangements are under the direction of the Kirkpatrick Funeral Home in Washington Court House.
www.kirkpatrickfuneralhome.com