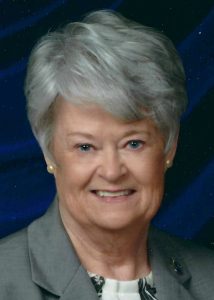 Wendy Sue (Waddle) Mansfield, 73, of Sabina (Lee's Creek), Ohio was carried home Wednesday, March 30, 2022, at 10:20 a.m. at her residence while surrounded by her loving family.
Wendy was born October 6, 1948, in Columbus, Ohio to Marion and Helen June (Fisher) Waddle.  She grew up on Snowhill Road in Fayette County, graduated from Miami Trace High School in 1966, and Bowling Green State University in 1970.
She taught school a short time in Fayette County before moving to Kaiserslautern, Germany, where she used her physical education degree in managing an Army Recreation Center and a woman's sports program.
Wendy met her husband, Ron, in Germany and they were married September 24, 1980, in Heidelberg.  From the marriage, Wendy inherited two sons, Wade and Zac and gave birth to daughter, Erin Leigh, in 1981.
Wendy supported Ron as an Army spouse until he retired in 2013, at which time they built the house of Wendy's dreams in Lees Creek on her mother's homeplace.
Along with her husband Ron, she was a member of the Bible Baptist Church in Wilmington.
Wendy was preceded in death by her parents and a brother, Jack Waddle.
She is survived by her husband, Ronald B. Mansfield; a daughter and son-in-law, Erin and Brian Driggers of Fayetteville, NC; two stepsons, Wade Mansfield and his wife, Kym, of Sacramento, CA and Zac Mansfield of Wilmington, OH; a granddaughter, Zoe; a brother, O.J. Waddle and a sister-in-law, Carol Waddle of Fayette County and many beloved nieces, nephews and cousins.
The family will receive friends Tuesday, April 5, 2022, from 5-8 p.m. at the Bible Baptist Church of Wilmington, 55 Megan Drive, Wilmington, Ohio.
The funeral will be held Wednesday, April 6, 2022, at 1 p.m. at the Lees Creek United Church of Christ, 57 Cox Road, Lees Creek, Ohio with the Rev. Josh Dixon, pastor at Bible Baptist Church, officiating.  Burial will follow in the Sabina Cemetery.
Arrangements are under the direction of the Kirkpatrick Funeral Home in Washington Court House.
www.kirkpatrickfuneralhome.com