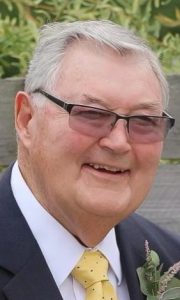 Ronald Dean Ratliff, 80, of Greenfield, Ohio died Friday, January 28, 2022, at 4:52 p.m. at the Adena Regional Medical Center in Chillicothe where he had been a patient since January 16.  He had been in failing health.
Ron was born September 17, 1941, in Stark County, Ohio to Chester Courtney and Doris Elizabeth Blatt Ratliff.  He was a 1959 graduate of Frankfort High School and attended Iowa State University where he played on the football team and was a member of Phi Kappa Psi fraternity.  He was a graduate of Morehead State College where he was a member of the Campus Club and also played football.   Following graduation from college, he was an industrial arts teacher and football coach, for one year, at Washington High School.  He lived most of his life in Ross and Fayette Counties.
He was a lifelong farmer and specialized in farm real estate appraisals.  He was president of the Federal Land Bank Association in Washington Court House before retiring in 1980, after fifteen years of service.
Ron was a member of the Pisgah-Mount Pleasant Community Church; the American Association of Farm Managers and Rural Appraisers; the Farm Bureau; PACI and the Ohio Top Farmers.  He was an original member of the Fayette County Memorial Hospital Foundation and later the Adena Fayette Medical Center Foundation of which he was a past treasurer and currently was serving as president.  He was a member and past president of the Washington Rotary Club and a trustee of the Hughey Trust.
He was preceded in death by his parents and a brother, Victor Ratliff.
Ron is survived by his wife, the former Nancy L. Acton, whom he married August 17, 1963; three children, Lamar Ratliff and his wife, Stephanie, of Fayette County; Mollie Byers and her husband, James, of Waynesville and Jill Mahan of Lexington, KY; six grandchildren, Emily Ratliff (Danny) Laird, Grant (Marissa) Ratliff, Becca Ratliff, John Byers, Dean Byers and Lane Mahan; a great grandson, Brooks Laird; six siblings, Larry Ratliff and his wife, Pam, of Coeur d'Alene, Idaho, Frank Ratliff of Montana, Roberta Long and Connie Bryant and her husband, Wayne, of Ross County, Judy Rhoades of Fayette County and Brenda Tupper of Westerville and numerous nieces and nephews.
The funeral will be Wednesday, February 2, 2022, at 1:30 p.m. at the Kirkpatrick Funeral Home in Washington Court House with the Rev. Larry Snodgrass, pastor at the Pisgah-Mount Pleasant Community Church, officiating.  Burial will follow in Greenlawn Cemetery in Frankfort.
Friends may call at the funeral home Tuesday from 4-8 p.m. and one hour prior to the service on Wednesday.
Memorial contributions may be made to the Adena Fayette Medical Center Foundation, 9 South Paint Street, Chillicothe, Ohio 45601.
www.kirkpatrickfuneralhome.com