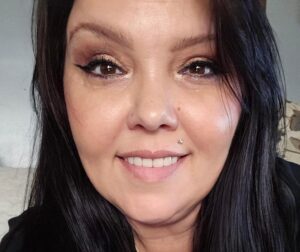 Patricia Lyn (Patty) Bills, 46, of Washington Court House, Ohio, died Tuesday, August 1, 2023, at 4 p.m. at the Arthur G. James Cancer Hospital at The Ohio State University Wexner Medical Center in Columbus where she had been a patient the past week.  She had been ill since November.
Patty was born February 19, 1977, in London, Ohio to Joe and Joyce Evans Campbell.  She lived most of her life in Washington Court House.
She formerly was a bartender at Mugs & Jugs where she had arranged numerous biker poker runs.
Patty enjoyed beading and making jewelry.
She is survived by her husband, Shawn Nathan Bills whom she married May 18, 2011; five children, Harley (Brandon) Wallace, Destiny Thomas, Landen Coulter, Brooke (Cody) Pollard and Austin Thomas, all of Washington Court House; her mother, Joyce (Kevin Brewer) Baird of London, Ohio, her father, Joe Campbell of Bellefontaine, OH; four grandchildren, Aiden and Addison Wallace, Wylie Pollard and Liam Ellis; five siblings, Jennifer (Jeff) Burlingame of Springfield, OH, Alex (Sonjia) Baird of South Charleston, Eddie Baird and Jaime Campbell, both of London, OH and Crystal Campbell of Bellefountaine, OH and aunts, uncles, cousins and many friends.
The funeral will be Friday, August 4, 2023, at 1 p.m. at the Kirkpatrick Funeral Home in Washington Court House with Paul Crichton, associate minister at Grace Community Church, officiating.  Burial will follow in the Paint Township Cemetery in Madison County.
Friends may call at the funeral home Friday from 11 a.m. until the time of the service.
www.kirkpatrickfuneralhome.com