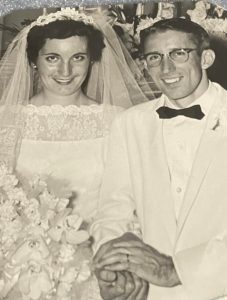 Patricia Ann Helsel, 88, of Washington Court House, Ohio, passed away peacefully at Adena Regional Medical Center in Chillicothe surrounded by her loving family at her side on Sunday, September 11, 2022.
She was born on June 25, 1934, in Fayette County, Ohio to Joseph and Arabelle Henry.  She graduated from Wayne High School in Good Hope in 1952.
She was preceded in death by her loving husband of 61 years, Gerald Strawder Helsel on March 13, 2021; her brothers, Burris (Irene), Bill (Wilma), Bob (Lil), Darrell (Marlene), Joseph (Eleanor), Gerald (Betty) Henry, Gary Row, Larry Row and her sisters, Gwendolyn (John) Row, Vida (Alva) Streitenberger, Daina (Dwight) Holloway, and Barbara (Pete) Belt.
She is survived by daughters, Debra Bush and Amber (Andy) Reboulet; sons, Stephen (Judy) Helsel and Preston Helsel; grandchildren, Cody Moore, Emery Reboulet, William, Noah, Gabriel, Phillip, Kendra, Cora, and Kamille Helsel; eight great grandchildren; brother, John (Diane) Row Jr.; sister, Sandra Armbruster; sisters-in-law, Delores "Dee" Helsel, Jane Row, Linda Row and numerous nieces and nephews.
Patty was known to most family members, as well as friends of the grandchildren, as "Mammy" and always made her grandchildren a priority in her life.  There was never a time when she was not willing to listen to anyone's problems and offer advice.  She played volleyball many years and was an avid and exceptional bowler for most of her life and bowled with her sisters, Vida and Daina on H & H Auto.
There will be a visitation from 11 am until 1 pm on Friday, September 16, 2022, at the Route 38 church of Christ, 1550 OH-38, Washington Court House, OH 43160 where there will be a memorial service after visitation officiated by Minister Dan Collier followed by burial at Highlawn Cemetery, 3260 US Route 22-NW, Washington Court House, OH.
Memorial contributions may be made to the Route 38 church of Christ, 1550 State Route 38-NE, Washington Court House, Ohio 43160.
Arrangements are under the direction of the Kirkpatrick Funeral Home in Washington Court House.
www.kirkpatrickfuneralhome.com