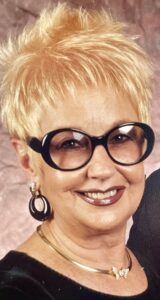 Patricia Ann (Kadel) Wood, 86, of Washington Court House, Ohio, died Sunday, February 26, 2023, at 12:37 a.m. shortly after admission to the Riverside Methodist Hospital in Columbus.  Her death was sudden and unexpected.
Patricia was born November 28, 1936, in Springfield, Ohio to Albert "Bud" and Janet Knicely Kadel.  She moved to Washington Court House in 2015, from Carmel, IN.
Over a 40-year career, Patricia built many relationships and was well respected for her knowledge and love of fine jewelry.  It was her vocation and passion.
Starting a very young age, she revealed her love of music through singing in the church choir and took every opportunity to share her talents, playing the piano.  The love of music led her to enjoy her role for many years in Vaud-Villities.
Patricia was preceded in death by a daughter, Elizabeth Tarrier on June 18, 2014; by her parents and her mother-in-law and father-in-law, Doris and Charles Wood.
She is survived by her husband, John Michael Wood whom she married August 11, 1975; three children and their spouses, Monte and Beth Studebaker of Columbus, Tom and Carolyn Studebaker of Washington Court House and Michelle and Scott Bean of Upper Arlington; her grandchildren, Sarah (David). Caitlin, Christian, Chloe (John), Jordan (Megan), Avery (Jared), Rachael (Troy), Bekah (Joe) Alexa (Andrew) and Andy (Sarah) and great grandchildren, Seely, Dillon, Greer, Sayer, Henry, Harry, Elle and Jack; Also surviving are a son-in-law, Tim Tarrier; daughter-in-law, Nikki Studebaker; brother-in-law, Richard Wood; nephews, David (Monica) Wood and Steven (Starla) Wood and great nieces, Avery and Olivia Wood.
Cremation will take place with a private family gathering to be held at a later date.
Memorial contributions may be made to Samaritan's Purse, P.O. Box 300, Boone, NC 28607 or online at samaritanspurse.org.
"In the end only three things matter:  How much you loved, how gently you lived and how gracefully you let go of things not meant for you." –Unknown
Arrangements are under the direction of the Kirkpatrick Funeral Home in Washington Court House.
www.kirkpatrickfuneralhome.com