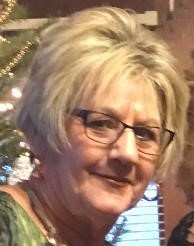 Nancy Lynn Cornell, 67, of Sabina, Ohio passed away Monday, December 5, 2022, at 8:06 p.m. at her home following a year-long battle with cancer.
She was born September 18, 1955, in Washington Court House, Ohio to Gary Lee and Beulah Dean "Boots" Wilson Weeter.  She was a 1973 graduate of Washington High School and lived most of her life in Washington Court House and Sabina.
For the past ten years, Nancy had been the fiscal officer for the Village of Sabina.
She enjoyed shopping and her yearly trips to the beach.
Nancy was preceded in death by her father on July 26, 1995, and her mother on January 28, 2017.
She is survived by her companion of 23 years, Carl C. Mullen; a son, Gary Todd Cornell and his wife, Lissa, of Washington Court House; three grandchildren, K'Lynn, Hayden and Noah Cornell; three siblings, Peggy J. VanHorn and her husband, Timothy, of New Holland, Mitchell L. Weeter and his wife, Pam, of Lancaster and Nadara A. Price and her husband, Herb, of Bloomingburg; nephews, Brody Price, Jacob (Emily) Moore and Nick Miller and a great niece, Presley Moore.
In keeping with her wishes, cremation will take place.
A memorial service will be held Friday, December 9, 2022, at 1 p.m. at the Kirkpatrick Funeral Home in Washington Court House with Greg Fessler officiating.  Burial of the cremains will be at a later date in the Highlawn Cemetery.
Friends may call at the funeral home Friday from 11 a.m. until time of the service.
Memorial contributions may be made to Ohio's Hospice of Fayette  County, 222 North Oakland Avenue, Washington Court House, Ohio  43160.
www.kirkpatrickfuneralhome.com