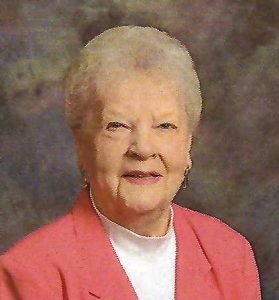 Marilyn E. Stimpert, 91, of Washington Court House, Ohio died Tuesday, August 2, 2022, at 10:54 p.m. at the Riverside Methodist Hospital in Columbus where she had been a patient since July 19.
Marilyn was born January 27, 1931, in Zanesville, Ohio to Ivin Swazey and Lulu Belle Fowler Miracle.  She was a 1949 graduate of Stafford High School and attended Bliss College.  She moved to Washington Court House in 1965.
She formerly was a typist and clerk for State Auto Insurance Company and the American Jersey Cattle Club.
Marilyn was an active member of the Grace United Methodist Church, the Arnold Circle and had formerly served as a trustee and assisted in the dining room at the church.  She was a member of the Fayette County Commission on Aging, had served as a volunteer at Fayette County Memorial Hospital for 25 years and had been a member of the Town and Country Garden Club.  She loved to decorate her home for the seasons, especially at Christmas with her hundreds of snowmen.  Her greatest love was for her family and she likewise was deeply loved by all who knew her and she will be truly missed.
On September 23, 1950, she married John William Stimpert.  He preceded her in death on November 17, 2016.  She was also preceded by her parents and a brother, Lowell Miracle
Marilyn is survived by a son and daughter-in-law, Keith and Terri Stimpert of Worthington; a daughter and son-in-law, Kathy and Dan Dean of Washington Court House; five grandchildren, Amy (Rob) Disbennett of Cincinnati, Jon (Allison) Dean of West Chester, OH, Emily (Jake) Shafer of Lewis Center, Ohio, Sarah (Dean) Zettler of Worthington, OH and Thomas John Stimpert of Columbus, Ohio and six great grandchildren, Will and Lilly Shafer, Genevieve, Scarlett and Molly Zettler and Leo Dean.
The funeral will be Saturday, August 13, 2022, at 12 p.m. Noon at the Grace United Methodist Church, with the Rev. Matt Brookes, pastor at the church, officiating.  Burial will follow in Washington Cemetery.
Friends may call at the church from 10 a.m. Saturday until time of the service.
Memorial contributions may be made to the Grace United Methodist Church, 301 E. Market Street or Ohio's Hospice of Fayette County, 222 North Oakland Avenue, Washington Court House, Ohio 43160.
Arrangements are under the direction of the Kirkpatrick Funeral Home in Washington Court House.
www.kirkpatrickfuneralhome.com