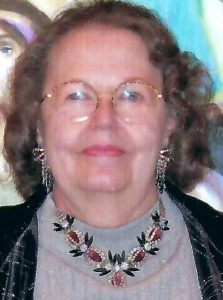 Linda Sue Sells, 83, of Washington Court House, Ohio died Sunday, February 13, 2022, at 9:58 p.m. at Court House Manor where she had been a patient four days.
Linda was born November 14, 1938, in Chillicothe, Ohio to H. Elton and Edna Mae Dungan Anderson.  She graduated third in her class at Washington High School in 1957, and was in the National Honor Society.  She attended Ohio University, the University of Georgia and the University of New Mexico.  As the wife of a U.S. Navy officer, she had lived in New Mexico; Florida; Chicago, Il Athens, Greece and Norfolk, VA before returning to Washington Court House in 1969.
She retired in 2009, from Calmar after serving 21 years as buyer, planner and purchasing agent.  She had formerly worked at Roe Jewelry.
Linda was a member of the Grace United Methodist Church and had been a member of the Washington Court House Altrusa Club.  She found value in everything and in every person she knew.
She was preceded in death by her parents and a brother, Darrell W. "Butch" Anderson.
She is survived by three sons, Andrew D. Sells and his wife, Kim, of Washington Court House, Patrick A. Sells and his wife, Christal, of Powell and Thomas A. Sells of Washington Court House, five grandchildren, Morgan, Lauren, Nicholas, Abagail and Caroline Sells; a sister and brother-in-law, Jeri and Allen Bookwalter of Clarksburg and several nieces and nephews.
The funeral will be Friday, February 18, 2022, at 1 p.m. at the Kirkpatrick Funeral Home in Washington Court House with the Rev. Matt Brookes, pastor at the Grace United Methodist Church, officiating. Burial will follow in the Washington Cemetery.
Friends may call at the funeral home from 10 a.m. Friday until time of the service.
www.kirkpatrickfuneralhome.com