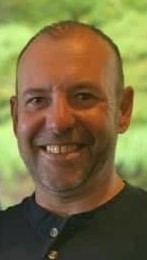 Kevin Scott Eggleton, 50, of Washington Court House, Ohio passed away Sunday, August 20, 2023.  His death was sudden and unexpected.
Kevin was born December 19, 1972, in Fayette County, Ohio to Larry E. and Cynthia Kay (Cindy) Fries Eggleton.  He was a 1991 graduate of Miami Trace High School and lived most of his life in the New Holland community.
He was a self-employed drywall finisher.
Kevin loved the family farm, the outdoors, animals and rock and country music.  He was an avid Browns and Buckeye fan.  He will be missed by many.
He was preceded in death by his grandparents, Charles and Ruth Eggleton and Bob and Ruth Fries, and a cousin, Lori Pettit.
Kevin is survived by a son, Austin (Katey) Eggleton of Covington, KY; a granddaughter, Leighton Eggleton; his father, Larry (Susan) Eggleton of New Holland; his mother, Cindy Eggleton of Washington Court House; a brother, Bruce Eggleton and his fiancé, Amy, of Washington Court House; two sisters, April Eggleton of New Holland and Amber (Bryan) Floyd of Sabina; a stepbrother, Adam N. Lightle of Washington Court House; several aunts, uncles, cousins, nieces and nephews; his beloved dog, Isaiah, and best friends, Jeff Reed and his son, Wyatt.
A celebration of life will be held Tuesday, August 29, 2023, from 6-8 p.m. at the Gathering Place Church, 240 Court House Parkway, Washington Court House, Ohio 43160.
Arrangements are under the direction of the Kirkpatrick Funeral Home in New Holland.
www.kirkpatrickfuneralhome.com