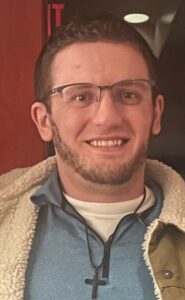 Kaleb Richard Kirkpatrick, 29, of Washington Court House, Ohio died Saturday, April 8, 2023, at 12:37 a.m. shortly after arrival at the Fayette Adena Medical Center.  His death was sudden and unexpected.
Kaleb was born August 18, 1993, in Washington Court House, Ohio to Kevin Richard and Michelle Renee Chrisman Kirkpatrick.  He was a 2012 graduate of Washington High School.
Kaleb was a plant operator at New Sabina Industries.
He was a member of the Gathering Place Church and enjoyed sports of all kinds.
Kaleb was preceded in death by his paternal grandparents, Gary and Nancy Kirkpatrick and his maternal grandfather, Larry Arthur Chrisman.
He is survived by his mother and stepfather, Michelle and Tom Pfeifer of Washington Court House; his father and stepmother, Kevin and Denise Kirkpatrick of Columbus; a sister and brother-in-law, Kierstin and Derek Pfeifer of Washington Court House; a niece, Kallie Pfeifer and a nephew, Asher, to be born in July; his maternal grandmother, Sharon Chrisman of Washington Court House; aunts and uncles, Kelli and Scott McCoy of Leesburg,  Larry and Holly Chrisman and Charlie and Minda Chrisman, all of Washington Court House and several cousins.
A memorial service will be held Thursday, April 13, 2023, at 6 p.m. at the Gathering Place Church with John Pfeifer, minister at the church, officiating.  Burial will be at a later date in the Washington Cemetery under the direction of the Kirkpatrick Funeral Home in Washington Court House.
www.kirkpatrickfuneralhome.com