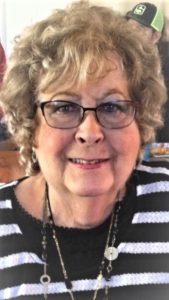 Joretta Hope Armbrust Brunner, 90, of Washington Court House, Ohio went to be with the Lord on Friday, March 4, 2022, at 3:18 p.m. while surrounded by her loving family at Court House Manor where she had been residing four years.
She was born July 19, 1931, in Fayette County, Ohio to Elmer Frank and Rosa Maude Garringer Armbrust and was a lifelong resident of this community.
Joretta was formerly a secretary at Armbrust Concrete and Sugar Creek Stone Quarry and later was a title runner for Gusweiler GM Center for eight years.
She was a member of the First Baptist Church in Washington Court House and had served as organist for almost 25 years.  She had also been an active member of the Jackie Rutter Circle and she, and her husband, had also been youth leaders and made lifelong impressions on the youth.  Previously, she had been a member of the Sugar Grove United Methodist Church for 30 years where she was church organist for 12 years and also youth leader with her husband.  She had been organist for many funerals, serving several local funeral homes. She was a volunteer at the Adena Fayette Medical Center, formerly known as the Fayette County Memorial Hospital Auxiliary.  She had also volunteered with the American Cancer Society of Fayette County.
Joretta was a homemaker who loved family gatherings, holidays, baking, and is known for her peanut butter fudge and red velvet cake that she shared with family and friends. She also enjoyed gardening, canning, sewing, quilting, crocheting, crafting, creative writing, poetry, playing the piano and organ, and listening to music. She leaves a rich Christian heritage of love and service to her family, church, and community. Her family is so very grateful and blessed to have had her in their lives for so many years. Joretta loved her Lord and she will be forever known by her godly example of faith, love, and kindness and her memory will always be loved and cherished.  Her children are thankful to their mom for being the lovely example of a virtuous and noble woman as she modeled God's pattern and design for all of them. We love and miss you. "She is more precious than rubies, nothing you desire can compare with her." NIV Proverbs 3:15; "Her children arise and call her blessed…" NIV Proverbs 31:2.
On September 4, 1948, she married Paul Christian Brunner in Newport, KY.  He preceded her in death on January 19, 2014.  She was also preceded by her parents; seven brothers, Alvin, Elden, Willard, Freddie and Charles Ronald Armbrust and two infant brothers; four sisters, Kitty Workman, Hazel Caplinger, Bonnie True and an infant sister and a devoted son-in-law, Joseph Ries in 2001.
She is survived by four daughters and their spouses, Julia Hope Brunner Ries D'Sidocky, and her husband, Richard, of Ravenna, Linda Brunner Wells and her husband, Gene, of Pawleys Island, SC, Susan Brunner Mitchell and her husband, Jon, of Washington Court House and Nancy Ann Brunner of Hebron, OH; eight grandchildren, Jeffrey (Ronda) Ries, Dennis (Tawny) Mitchell, Michael (Jessica) Mitchell, Brian (Lindsay) Mitchell, Cassandra (Wade) Jennings, Hamilton (Tashana) Wells, Bethany (Michael) Pratt and Elizabeth (Charles) Whitaker; 24 great grandchildren and one great great grandchild.
The funeral will be Wednesday, March 9, 2022, a 1 p.m. at the First Baptist Church in Washington Court House with the Rev. Joe Current, pastor at the church, and Michael and Dennis Mitchell, officiating.  Burial will follow in the Washington Cemetery.
Friends may call at the church Wednesday from 11 a.m. until time of the service.
Memorial contributions may be made to the First Baptist Church, 301 East East Street, Washington Court House, Ohio 43160.
The family is thankful to Court House Manor and their staff for the great care, patience and kindness shown to their mother.
Arrangements are under the direction of the Kirkpatrick Funeral Home in Washington Court House.
www.kirkpatrickfuneralhome.com