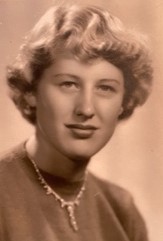 Jincie Louise VanMeter, 88, of Washington Court House, Ohio went to be with her Lord Jesus Christ on Monday, August 1, 2022, at 8:26 p.m. at the home of her daughter and son-in-law in Circleville.
She was born September 15, 1933, at Sabina in Clinton County, Ohio to Paul Rhodes and Jincie Lillian Stewart Sperry.  She was a 1953 graduate of Washington High School and lived most of her life in this community.
She had formerly been a legal secretary for Charles S. Hire and later John S. Bath.
She was a member of the Fayette Bible Church and had formerly been an assistant Girl Scout leader.
On May 2, 1953, she married Frelan Opas VanMeter.  He preceded her in death on November 10, 2014.  She was also preceded by a daughter, Karen Lynn Mitchell on June 5, 2020; a son-in-law, Michael Dennis; a sister, Paula Sperry Leto; a half sister, Jean Sperry Shidaker and a nephew, Edward Shidaker.
Louise is survived by two daughters and sons-in-law, Cinda and Charles Burks of Seneca, SC and Jincie Beth and Bob Hendershot of Circleville; a son-in-law, Tim Mitchell of Dublin, Ohio; nine grandchildren, Eric Mitchell, Kristen (Austin) Drenski, Jessica (Patrick) Donaldson, Charles (Brittany) Burks, II, Connor (Elizabeth) Burks, Jincie Alexandra Burks, Sarah (Earl) Dennis-Railey, Jason (Stefanie) Dennis and Matthew (Melissa) Dennis; 16 great grandchildren, Amelia, Sebastian, Declan and Della Burks; Bryce, Eamon, Lincoln, Amelia and Jeremy Donaldson; Jayden, Olivia, Eloise, Clara and Eli Dennis and DeVaughn and Destiny Railey;  brother-in-law and sister-in-law, E. Wayne and Patty VanMeter of Washington Court House; a niece, Robin (Walt) Meiner; other extended family members and her beloved cat, Greylie.
The funeral will be Saturday, August 6, 2022, at 2 p.m. at the Fayette Bible Church with the Rev. Tony Garren, pastor at the church, officiating.  Burial will follow in the Washington Cemetery.
Friends may call at the church on Saturday from 12 noon until time of the service.
Memorial contributions may be made to the Fayette Bible Church, 1315 Dayton Avenue-NW, Washington Court House, Ohio 43160.
Arrangements are under the direction of the Kirkpatrick Funeral Home in Washington Court House.
www.kirkpatrickfuneralhome.com