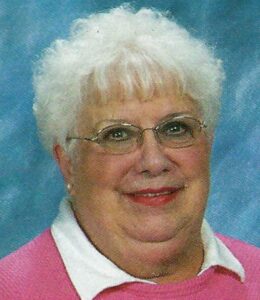 Jean Moore Everhart Lewis, 98, of Washington Court House, died Tuesday, October 17, 2023, at 12:13 p.m. at Court House Manor.
Jean was born May 29, 1925, in Fayette County, Ohio to Willard Robinson and Nellie Ethel Fisher Everhart.  She was a 1943 graduate of Washington High School and was a lifelong resident of this community.
She was secretary for the Superintendent of the Fayette County Board of Education for 25 years before her retirement in 1974.
Jean was a member of WCH Grace Methodist Church where she sang in the choir for over 40 years.  She had been a member, vice president and program chairman for the Cecilians Music Club; was a member of the Washington Court House Business and Profession Women's Club for over fifty-years and was a life member and past board member of the Fayette County Historical Society.  She joined Royal Chapter #29 of the Order of the Eastern Star in 1946, and had served as all star points.
On December 23, 1973, she married Robert E. (Bob) Lewis.  He preceded her in death on March 8, 2000.  She was also preceded by two brothers, Ronald Everhart and Lamoine F. (Skeet) Everhart and three sisters, Vivian Blain, Ruth Boroff and Virginia Flint.
Jean is survived by a son and daughter-in-law, Steve and Mary Lewis of Washington Court House; two granddaughters, Kristin (Eric) Moody of Charlottsville, VA and Betsy (Erica) Lewis of Portland, OR; three great grandchildren, Claire, Asa and Macy Moody and several nieces and nephews, including Debbie and Ben Roby, Diana Barchet, Louanne and Don Clawson and Suzanne and Bill Morris.
A graveside service will be held Tuesday, October 31, 2023, at 11 a.m. at the Sugar Grove Cemetery in Fayette County with Mell Wickensimer, director of visitation at WCH Grace Methodist Church, officiating. Burial will be under the direction of the Kirkpatrick Funeral Home in Washington Court House, Ohio.
Memorial contributions may be made to WCH Grace Methodist Church, 301 East Market Street, or Ohio's Hospice of Fayette County, 222 North Oakland Avenue, Washington Court House, Ohio 43160.
www.kirkpatrickfuneralhome.com