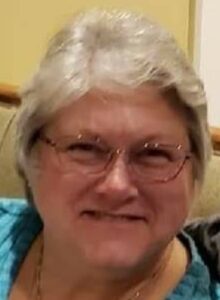 Janet Kay McNabb Workman, 64, of Washington Court House, Ohio died Thursday morning, March 23, 2023,  at her home.
Janet was born October 27, 1958, in Dayton, Ohio to Howard Junior and Irene Estelle Marguerite Bloomquist McNabb.  She was a 1977 graduate of Wayne High School in Huber Heights and had formerly lived in Fort Wayne, IN and Huber Heights, OH but spent most of her life in Fayette County.
She had served three years as executive secretary at the Ohio State House; worked ten years in customer service at Mac Tools, Inc.; served as head teller at U.S. Bank and was in sales at Heartstrings at the Tanger Outlet Mall in Fayette County.
She was a member of the First Baptist Church.  She had formerly sung with the Fayette County Choral Society; had been a member of the Washington Lioness Club; participated in The Walk to Emmaus and Chrysalis.  She enjoyed music, computers, watching television and especially her dogs, Paxton and Milo.
Janet was preceded in death by her parents; a sister and brother-in-law, Carol and Bill Hankins and brothers-in-law, Ronald L. Dowler, Michael B. Campbell, Marvin L. Heinberger and Bob Graska.
She is survived by her husband, Mark J. Workman whom she married December 6, 1980; a son, Lucas J. Workman and his fiancée, Natasha Nohle, of Wappingers Falls, NY; two sisters, Patricia Heinberger of Mansfield and Paula Campbell of Washington Court House; a brother-in-law and sister-in-law, Virgil and Vera Workman of Sabina; a sister-in-law and brother-in-law, Diane and Tom Douglas of New Lebanon, OH and several nieces and nephews and grand nieces and nephews.
The funeral will be Monday, March 27, 2023, at 11 a.m. at the First Baptist Church in Washington Court House with her nephew, Jeff Graska, associate worship pastor at The Father's House Church in Canton, and Eddie Gault, minister at the First Baptist Church, officiating.
Cremation will follow the service and burial of the cremains will be at a later date in the Washington Cemetery.
Friends may call at the church Sunday from 3-6 p.m.
Memorial contributions may be made to the First Baptist Church, 301 East East Street or Ohio's Hospice of Fayette County, 222 North Oakland Avenue, Washington Court House, Ohio 43160.
Arrangements are under the direction of the Kirkpatrick Funeral Home in Washington Court House.
www.kirkpatrickfuneralhome.com