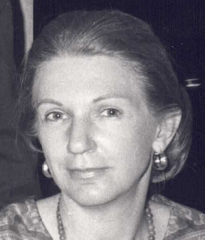 A memorial service for Ernestine (Tina) King Rawlins, 93,  will be held Friday, July 1, 2022, at 11 a.m. at the  Washington Cemetery with the Rev. Father Warren Huestis, pastor at the All Saints Church, officiating.  Burial of the cremains will be under the direction of the Kirkpatrick Funeral Home in Washington Court House.
Tina passed away Wednesday, December 1, 2021 at Friendship Village of Dublin after a short illness. She spent her final days with loving family members, supported by hospice and the nursing staff of Friendship Village.
Tina was born in Rockmart, Georgia on June 5, 1928, to Ernest and Lois King.
She was a graduate of Rockmart High School in Rockmart Georgia, and graduated magna cum laude with a degree in journalism from Mercer University in Macon Georgia. While at Mercer, Tina met her beloved husband Charles R. Rawlins, a returning WWII veteran attending Mercer on the GI Bill.
After graduating, Tina worked as an elementary school teacher in the Atlanta area and began to raise a family. In 1958, her husband's employment by the federal government brought her to the Washington D.C. area. A subsequent position with the State Department U.S. Agency for International Development allowed Tina and her family to move overseas. From 1964 through 1974, the family lived in Thailand, Pakistan, and Vietnam. These years abroad were some of the most influential of Tina's life and were a period of great adventure for the entire family. She continued to teach, and was a valued partner to her husband, supporting his work in aid of the global community. After leaving Saigon, Vietnam in 1974, Tina and her husband returned to the U.S., living in the Washington D.C. area where they both finished their careers. In 1986 Tina and her husband moved to Cincinnati, Ohio to be closer to family.
After her husband's death in 2004, Tina moved to Washington Court House to be with her daughter and son-in-law.
Tina was a member of Saint Andrew's Episcopal Church (now All Saints Church), where she served on the altar guild. She was a volunteer at Fayette Memorial Hospital, and for Fayette County Hospice. She had many hobbies, including interior design, antiquing, gardening, bridge, sewing, needle point, reading, and shopping. Though she loved a journey of any kind, she was also happy at home, curled up with a good book and a cat by her side. Through her beauty, intelligence, and singular way of approaching life, she elevated every occasion. She will remain an absolute treasure to her family.
In addition to her parents, Tina was preceded in death by her husband, Charles R. Rawlins, and by her daughters Marie King Rawlins and Sharon Lynne Mavis.
Tina is survived by her son, Charles Rawlins and daughter-in-law Jill Rawlins of Nederland Colorado; her son-in-law, Geoffrey Mavis of Bloomingburg; grandchildren Rachael Smith and her husband, Dale Shane Smith, of Worthington Ohio; James Mavis and wife, Nicole Mavis, of Bloomingburg; Samuel Rawlins of Boulder Colorado, and Charles Rawlins of Nederland Colorado; great grandchildren Dale Marie Smith, Ian Mavis, and Isaac Mavis, a brother Bruce King of Dublin Georgia, and many nieces and nephews.
Memorial contributions may be made to Capital City Hospice 2800 Corporate Exchange Drive, Suite 170, Columbus, Ohio 43231.
www.kirkpatrickfuneralhome.com