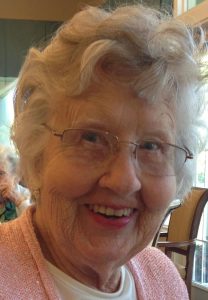 Donna Jean Holmes Hankins, 96, of Maitland, FL, formerly of Washington Court House, Ohio entered the presence of Christ on Thursday, August 18, 2022, at 1:13 p.m. at Trinity Springs Assisted Living Care in Oxford, Florida where she had been a patient the past year.
Donna was born June 17, 1926, in Toledo, Ohio to Merrell and Velma Bales Holmes.  She was a lifelong Ohioan (Toledo and Washington Court House) and had been a dual resident of Washington Court House and the Clearwater-Orlando, Florida area since 1980.
She was a graduate of The Ohio State University in music, with a degree in vocal performance.  She taught and directed choral music on all levels at Miami Trace High School; in the Toledo Public School System and in the Englewood and Clearwater, Florida school systems for 30 years.
Donna was a choir member and frequent vocal soloist in the music ministries of the churches she attended throughout her life.  She was also a member of the Fayette County Choral Society for many years and performed vocally for the Fayette County Sesquicentennial Celebration held in Washington Court House.  She was a sponsor of the girls 4-H club in Washington Court House for many years.
She was an accomplished author-poet, having written an anthology of more than 100 poems and a full-length book describing a Christian's relationship with Christ, modeled after the analogy of a woman's marriage to her husband.
Donna was well-known for her constant study of Scripture, both in formal classes and privately, and engaged in an extensive private ministry of prayer for her family and friends daily.  She maintained a faithful interest in the Jewish people throughout her life, seeking their conversion to Christ and Christianity, until her death.
On November 27, 1948, she married Harford Harrison (Dick) Hankins, Jr.   He preceded her in death on January 17, 2017.
She is survived by three children, Cheryl A. Mason and her husband, Gordon, of Orlando, FL, Dr. Stephen J. Hankins and his wife, Sandra, of Greenville, SC and Lisa J. Donohue and her husband, Thomas, of The Villages, FL; ten grandchildren, Julianne Poor, Greg Mason, Ryan Mason, Kevin Donohue, Thomas Donohoe, Jr., Hayley Byrns, Stephanie Hankins Griffith, Stephen Hankins, Jr., Sherilyn Hankins Franklin and Samuel Hankins and 22 great grandchildren.
The funeral will be Monday, August 29, 2022, at 2 p.m. at the Fayette Bible Church with the Rev. Tony Garren, pastor at the church, officiating.  Burial will follow in the Washington Cemetery.
Friends will be welcomed by the family at the church one hour prior to the service on Monday.
Family and friends are invited to a meal at the church following the burial.
Arrangements are under the direction of the Kirkpatrick Funeral Home in Washington Court House.
www.kirkpatrickfuneralhome.com