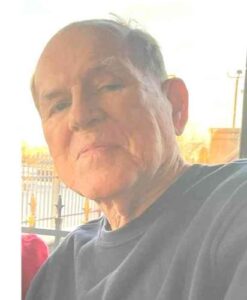 David Lee Hurley, 87, of Washington Court House, Ohio passed away at his residence on Saturday, June 17, 2023, from multiple health issues.
David was born to Harley and Ruby (Marasak) Hurley, on April 18, 1936.  He grew up in Portsmouth and Greenfield, Ohio and was a graduate of Edward Lee McClain High School in Greenfield.
He proudly served the U.S. Army, during the Korean Conflict, and took part of the Bay of Pigs Invasion in 1961. Fifty years after the 1961 invasion, the details about the classified project became public. That's a day we can't forget because how avidly he announced, "I can finally talk about this!" and we heard the stories numerous times and loved his passion. He was a devoted Patriot.
After serving his time in the military, he returned to Greenfield, where soon afterwards he was set up on a blind date with Bonnie Hauck. When they met, his words were, "As soon as I saw her and she smiled, I fell in love and the rest is history."
David and Bonnie married on June 1, 1962, and moved to Washington Court House where they bought an old house and together, turned it into their beautiful, forever home. David and Bonnie loved traveling, especially to Las Vegas.
David had worked for Coca-Cola Bottling Company and, for over 30 years, owned and operated Scioto Vending System and later Thunderbird Music and Games.  For the past 25 years, he owned multiple rental properties in Washington Court House.
He loved staying busy and had an artistic gift of building and fixing things.  He was a lifelong car and motorcycle enthusiast and had owned and restored several classic cars and motorcycles.   Known as "Big Dave," he was the "go to guy" for anything that needed fixed or built.  He was also an animal lover, jokester, history enthusiast, smart businessman, and known to tell his lifelong stories to everyone. He always made people laugh with his clever and sarcastic personality.
It's hard to sum David up in a few paragraphs, so we asked him, "What legacy do you want to leave behind?" His answer: "I love helping people. I want to be known as always being there to help people. I also never judged. I'd rather try to understand."
He was a member of Fayette Lodge F. & A.M. #107 and the 32nd Degree Masons, Valley of Columbus.  He was instrumental in the renovation and restoration of the Judy Chapel at the Washington Cemetery and was a primary donor to the Veterans Memorial there.
David was preceded in death by his parents; his loving wife, Bonnie, after of 38 years of marriage, and an infant son, David Ray Hurley.
He is survived by three daughters, Molly Hurley of Cornelia, NC; Heidi Ley and her husband, David, of Herriman, UT, Amy Hurley of Columbus, a grandson, Tyler Hurley and his wife, Jasmin, of Washington Court House; two great grandchildren, Charley Belle and Liam, and his beloved dog, Hanna, that never left his side.
A special thank you to Kristin Price, Joanie Price, Johanna Miller, and Carolyn Beverly, and the team at Ohio's Hospice of Fayette County for taking great care of David in his final months.  Also, a thank you to Nancy Davis, who gave him companionship for many years.
David was positively a wonderful father, grandfather, friend to all, and leaves behind a legacy of love and acceptance. His ability to embrace others with compassion will forever be remembered.
A Masonic service, which is open to the public, will be held Thursday, June 22, 2023, at 1 p.m. at the Kirkpatrick Funeral Home in Washington Court House.  The funeral will immediately follow the Masonic service with Todd Maurer, connections minister at the South Side Church of Christ, officiating.  Burial will be in the Washington Cemetery.
Friends may call at the funeral home Thursday from 11 a.m. until time of the service.
www.kirkpatrickfuneralhome.com