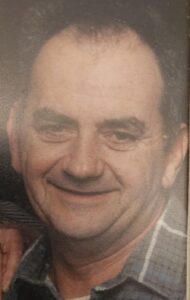 Darrell D. Michael, 81, of Washington Court House, Ohio, passed away Saturday, February 18, 2023, at 10:10 a.m. at Signature HealthCARE of Fayette County where he had been a patient since February 8.
Darrell was born October 28, 1941, in Fayette County, Ohio, to Leslie C. and Edith Anders Michael.
Before his retirement, he was a firefighter with the Washington Fire Department.
He was a member of the McNair Memorial Presbyterian Church; was a proud veteran of the United States Army, serving during the Vietnam War; was a member of the Fayette Lodge F&AM #107 and formerly was a member of Washington Chapter #129 of the Benevolent and Protective Order of the Elks.
On October 25, 1962, he married the former Blanche Mootispaw.  She preceded him in death on March 12, 2004.  He was also preceded by his father, Leslie C. Michael; mother, Edith Parsons; step-father, Grandville Parsons; siblings, twin-brother Carroll Michael, LeRoy Michael, James Michael, and Robert Michael; his father-in-law and mother-in-law, Gene and Ethel Yahn; sister-in-law, Sharon Martindale; brother-in-law, Phil Yahn and special friend Shirley Evans.
He is survived by three sons and daughters-in-law, Jeffery and Peggy Michael, Terry and Sue Michael, and Brian and Heather Michael, all of Washington Court House; grandchildren, John (Nikki) Michael of Leesburg, Amanda (Mark) Devenport of Washington Court House, Katie (John George) Michael of Columbus, Sarah (Norman) Moore of New Holland, Aaron (Morgan) Brooks of Hillsboro, Jessica (Jeff) Clouser of Greenfield, Travis Davis of Jeffersonville, Jordan (Corey) Buckley of Wilmington, Bill (Markie) Michael of Washington Court House and Morgan (James Baker) Michael of Kettering; several great grandchildren and great-great grandchildren; siblings, Wilma Kelso of Waynesville, Roger Parsons of Florida, and Larry Michael of Washington Court House; sisters-in-law, Debbie (Kevin) Persinger of Greenfield, and Brenda Yahn of Mt. Sterling; several nieces and nephews; and many friends.
The funeral will be Friday, February 24, 2023, 11 a.m. at the South Side Church of Christ with Todd Maurer, involvement minister at the church, and Danny Dodds, minister at the Greenfield Church of Christ, officiating.  The Fireman's Last Call will conclude the service.  Burial, with complete military honors, will follow in the Sabina Cemetery.
Friends may call at the church Thursday, February 23, 2023, from 5:00 to 8:00 p.m. where a Masonic service, which is open to the public, will be held Thursday at 7:30 p.m.
Arrangements are under the direction of the Kirkpatrick Funeral Home in Washington Court House.
www.kirkpatrickfuneralhome.com