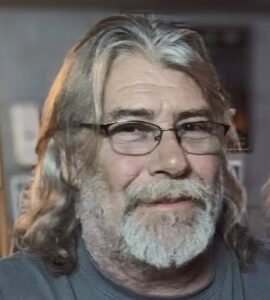 Charles D. (Chuck) Noble, 60, of Washington Court House, Ohio died Wednesday, November 1, 2023, at 12:04 a.m. shortly after arrival at Adena Fayette Medical Center.  He had been in failing health, but his death was sudden and unexpected.
Chuck was born September 10, 1963, in Washington Court House, Ohio to Charles David and Marilyn Marie Monteith Noble. He was a graduate of Miami Trace High School and was a lifelong resident of New Holland and Washington Court House.
He had been a production supervisor at Land O' Lakes Purina Feed in Washington Court House since 1988.
Chuck was a member of Fayette Aerie #423 of the Fraternal Order of Eagles in Washington Court House; liked working in his garage; enjoyed riding his Harley and loved spending time with his grandchildren.
He was preceded in death by his parents.
Chuck is survived by his wife, the former Stacey Deanne Williams whom he married July 17, 2004; two daughters, Paige Bush and her husband, Casey, of Kingston, Haley Williams of Washington Court House; three grandchildren, Garrett Jester, Wren Williams and Melanie Bush and Charlie Bush to be born in May;  two brothers, John Noble and Keith Noble and his wife, Roxane, all of Washington Court House; two sisters, Diane Noble of New Holland and Stacey Noble of Washington Court House and numerous cousins, nieces and nephews.
A visitation will be held Saturday, November 4, 2023, from 1-4 p.m. at the Kirkpatrick Funeral Home in Washington Court House.
Cremation will follow the visitation.
www.kirkpatrickfuneralhome.com