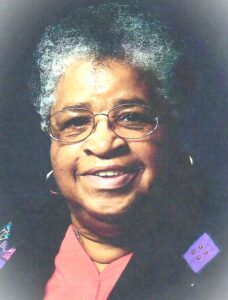 Beverly Jean Qualls, 87, of Washington Court House, Ohio passed away Wednesday, December 7, 2022, at 9:22 p.m. at her home following a long, hard-fought battle with cancer.  She was blessed to be surrounded by her loving family.
Beverly was born September 18, 1935, in Washington Court House, Ohio to Herbert L. and Pauline Stepter Crosswhite.  She was a graduate of Washington High School and lived most of her life in Washington Court House.
She was a retired STNA who took care of many people throughout her life.
Beverly was so proud of her ancestry.  She was a direct descendant, on the Crosswhite side, of Madison Hemmings, the son of Sally Hemmings and historically rumored Thomas Jefferson.  Recent DNA tests confirmed a match to the male line in the Jefferson family.  Her great great grandmother, Harriet Hemmings Butler, daughter of Madison Hemmings and granddaughter of Sally Hemmings, is buried in Bloomingburg Cemetery.
Beverly was preceded in death by her parents; three sons, Michael T. Qualls, Steven Gregory Qualls and Robert Alan "Robbie" Qualls; brothers, Robert Crosswhite and his wife, Jeanette, Norman Crosswhite,  and Herbert D. "Herbie" Crosswhite; a sister, Alberta StewarD; aunts and uncles, Theresa Jones, Raleigh and Kate Stepter, nieces, Robbin Crosswhite, Lesley Stepter and Tina Cropsswhite and a nephew, Juan (Butchie) Steward.
She is survived by a daughter, Chiquita (Roger) Nash; a son, Anthony D'wayne Qualls; three grandchildren, Michael Nash, MicKenna Nash, and MiCayla (Quantez) Claybrooks; two great grandchildren, Memphis and Mykhal Claybrooks; two brothers, Earl (Toyia) Crosswhite and William (Rita) Crosswhite and special cousins, Paula Stepter, Fulton (Bertha) Terry, Delores Lindsey and Gail Wilkerson.
The funeral will be held Saturday, December 17, 2022, at 11 a.m. at the First Church of God, 610 Harrison Street with Pastor Patrick Gamble, minister at the church, officiating.  Burial will follow in the Washington Cemetery.
The viewing will be held Friday, December 16, 2022, from 5-7 p.m. at the Kirkpatrick Funeral Home in Washington Court House.
Memorial Contributions may be made to the First Church of God, 610 Harrison Street or the Second Chance Center of Hope, 420 West Oakland Avenue, Washington Court House, Ohio 43160.
www.kirkpatrickfuneralhome.com